Description
Project Scope: 2 Liter CSD Line
Line 1 –  2000ml PET bottles / 13000BPH CSD bottling line
· Processing Equipment
· Bottle blowing machine
· Bottling & Packaging machines
No
Name
Model
Capacity
Qty.
Remark
1st Line – 13000BPH – 2000ml CSD Line
Part 2: syrup processing system, 13 ton/hour
1
Hot water tank
RSG
10ton/h
2 sets
※SUS 304, 3mm, supplied by POSCO, S.Korea

※Double layers

※Steam heating

※60rpm

Steam control system
2 sets
※SPIRAX SARCO steam control system
Hygienic pump
YA20T/24
20T/H
2 sets
※Contact part SUS304
Heat exchanger
PH15M2
20M2
2 sets
※SUS316 plate
2
High speed shred sugar melting tank

(85 degree)

HTG-5
5000L
4 sets
※SUS 304, 3mm, supplied by POSCO, S.Korea

※1400 rpm

※Double layer

Hygienic pump
YA20T/24
20T/H
2 sets
※Contact part SUS304
Connected-filter
ZPR-H20
20T/H
2 sets
※200 mesh
Heat exchanger
PH15M2
15M2
2 sets
※SUS316 plate
3
Mixing tank
HZ13000L
13000L
6sets
※36 rpm

※Single layer

Hygienic pump
YA25T/24
25T/H
2 sets
※Contact part SUS304
Double filter
ZPR-H25
25T/H
2 sets
※1 um
Working platform
2 sets
※SUS304
4
Hygienic pump
YA20T/24
20T/H
2 sets
※Contact part SUS304
5
Chilled water storage tank
LSG
13T
2 sets
※SUS 304, 3mm, supplied by POSCO, S.Korea

※Double layers

※Steam heating

※60rpm

Hygienic pump
YA20T/24
20T/H
2 sets
※Contact part SUS304
Heat exchanger
PH15M2
20M2
2 sets
※SUS316 plate
6
Carbonator
IN-ZKWC-250D
26T/H
1set
※Siemens PLC+HMI

※Chilled water vacuuming part

※Proportional adjusting valve

※CO2 Balancing system

※CO2 regulating system

※CO2 mixing system

6.1
Automatic switch system for chilled water supply
6.2
Automatic switch system for drink supply
6.3
CO2 filtering system
EYHT
1set
※Siemens PLC + HMI

※Schneider low voltage electric components

※Plate type heat exchanger

※With CIP and SIP function

135 degree for 5-15s

※Steam controlling system

7
CIP system
IN-CIP5000L
5000L
1set
※Steam heating

※Single layer

※5000L Alkali tank

※5000L Acid tank

※5000L Hot water tank

※Heat plate exchanger, 15M2

※CIP Pump

※With ladders and working platform

7.1
CIP back pump
1set
8
Pipe works
※Out surface and inner surface work handling

※On-site engineering welding

※Designed as shown in the drawing

※CIP system pipe works

※All Valves has to be butterfly valves, Flanged gasket fittings, included in

chilled water, CIP station to Machines, treatment to syrup prep to carbonator to Filling Seaming. This has to include the CIP and Return Line as well.

※Drainage system pipe works

※Cooling tower pipe works

※Chilling machine pipe works

※CO2 filter pipe works

※Drainage pipe works from each machine which consumes water to the Client's drainage point

※SUS304 drainage works

Thermal insulation
※Cooling tower pipe thermal insulation

※Chilling machine pipe thermal insulation

※Steam pipe thermal insulation is not included

9
Cooling tower
100T
1set
※For cooling the juice from 130 Degc to 85 Degc
10
Steam generator
IN-GL3000
3000 Kg/h
2sets
※Diesel type

※Italian Baltur burner

11
Chilling machine
IN-LQXT
1set
※Taiwanese Hanbell Compressor

※Including cooling tower

Total price of Part 2: 
Part 3. PET Bottle Blowing System
1
Automatic 8 cavities Blow Molding Machine
IN-8CR2L

Servo

13000 bph
1set
※German BeckHoff PLC

※Taiwan HTC HMI

※BeckHoff DIGIT MOLDULUS OUPUT CONTROLLER

※Festo Pneumatic cylinder

※Taiwan Delta Servo system

※Schneider low voltage electric components

※Low pressure air recycling system

Preform unscrambler
1set
2
Blowing mould
2000 ML
13000 bph
1pc
※Aluminum alloy
3
HP Air Compressor

MC(A)W-090
10 m3/min
1set
※10 m3/min, 40 Bar

※Austrian HOERBIGER high pressure valve train

※Siemens motor

※Holland Jorc waste discharging system

※Danfoss output pressure switch system

Air dryer system for HP
NTLN-10.0
10 m3/min
1set
※10 m3/min, 40 Bar
Air filter for HP
10 m3/min
1set
※10 m3/min, 40 Bar
Air Tank
2 m3/min
1set
※1 m3/min, 40 Bar
4
Mold chilling machine
SIB-20A
20HP
1set
※20HP
Total price of part 3
1
Rinsing filling capping

Tri-block

INGF

40-120-10

13000 B/H
1set
※Siemens PLC+HMI

※Siemens VFD

※German IGUS sliding sleeve

※Sealing rings are made in Europe

※Centralized lubricating system

※CIP rinsing cup for CIP cleaning

※SKF or NSK bearing

※40 rinsing heads

※120 filling heads

※10 capping heads

1.1
Cap hopper
IN-SGJ
13000 C/H
1set
※Belt type, with cap sorter
Cap sterilizer
IN-SGJ
13000 C/H
1set
2
Light inspection box
IN-DJ
13000 B/H
1set
※Energy-saving tank

※Strong penetration light ray

3
Bottle Warming and rinsing Tunnel
IN-WP

10000BPH
1set
※Siemens, PLC+HMI
4
Blowing dryer
IN-CGJ
13000 B/H
2sets
※SUS304, 3mm, supplied by POSCO, S.Korea

※two 7.5kW fans

※Air knife type

5
Rotary type OPP labelling machine
IN-R12A
13000 B/H
1set
※Siemens PLC

※Denmark Danfoss inverter

※USA Lion sensor for detecting label

※Germany SICK sensor for detecting bottles

※12 labeling heads

※YASKAWA Servo motors

6
Coding unit
VJ1210
13000 B/H
1set
※Supplied by Videojet, USA

※You can buy the ink in your country

7
Automatic Printed film shrink packing machine

Without tray

IN-DTMB250
40 packs/min
1set
※Austrian B+R PLC and HMI

※German Sew Motor

※German Festo cylinder

※German Leuze sensor

※Package type:

2*3 1500ml bottle

8
Air conveyor with air fans
FC-1
13000BPH
16m
※SUS304, 3mm, supplied by POSCO, S.Korea

※2.2 kW air fan with air filter

※Electric cables sorting system

※Control cabinet

90 degrees turn
/
Fan
3sets
9
Flat conveyor with motors
FC-1
13000 B/H
140m
※SUS304, 3mm, supplied by POSCO, S.Korea

※SUS304 cable sorting sink

※German SEW Speed adjusting motor

※Lubricating system

※Subject to the final confirmation of the line's layout

Motor
11sets
90 degree conveyor turn
6sets
10
Low pressure air compressor
DY
4.0 m3/min
1set
※10 Bar

※Supplying the filling and packing line

Total price of Part 4:
1st line / 2000ML CSD BOTTLING LINE
 
Processing system                                                               
1. Hot water tank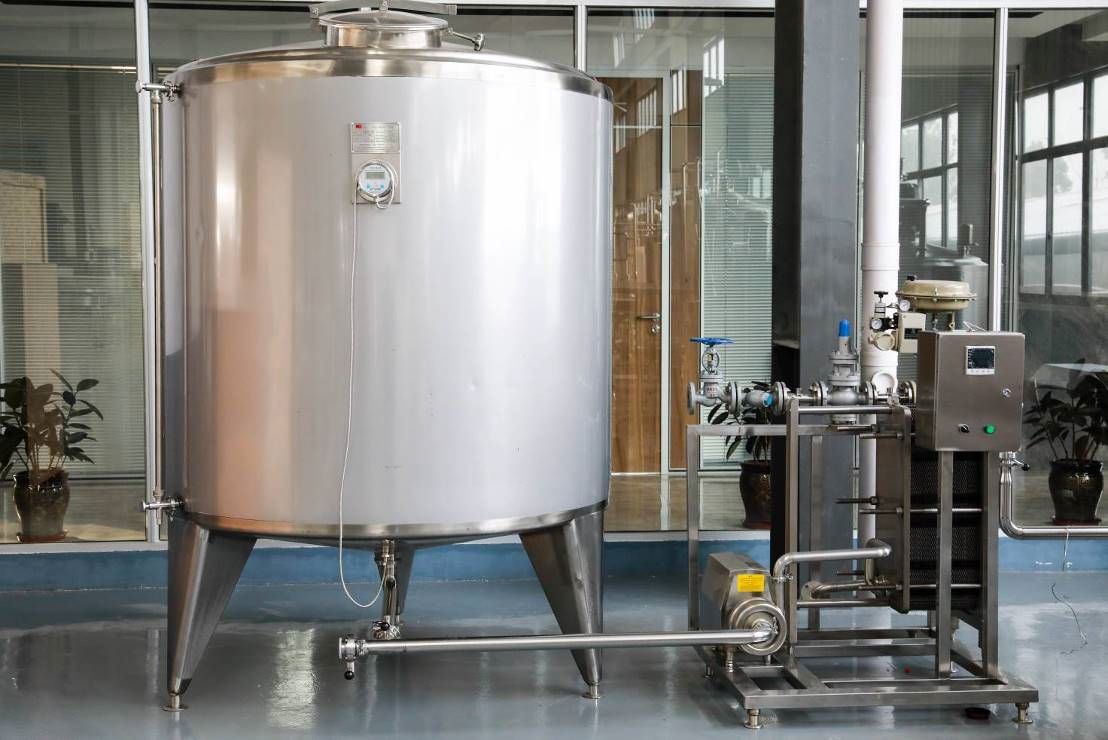 Description:
Material: SUS304, tapered head is used above and below the tank, the tank is made of two layers of stainless steel, the thickness of the inner tank is 3mm, the thickness of the outer cover is 1.5mm. High temperature resistant polyurethane foam insulation layer, the inner wall of the tank is processed by automatic mirror polishing, the outer wall of the tank is processed by drawing matte; Tank configuration: phi 400 health level quick-opening manhole, glass tube liquid level gauge, thermometer, sterile air filter Ф 38 in and out of the mouth. The supporting leg is adjustable in height and overall size: 1400*1500*2100mm
2. Sugar melting tank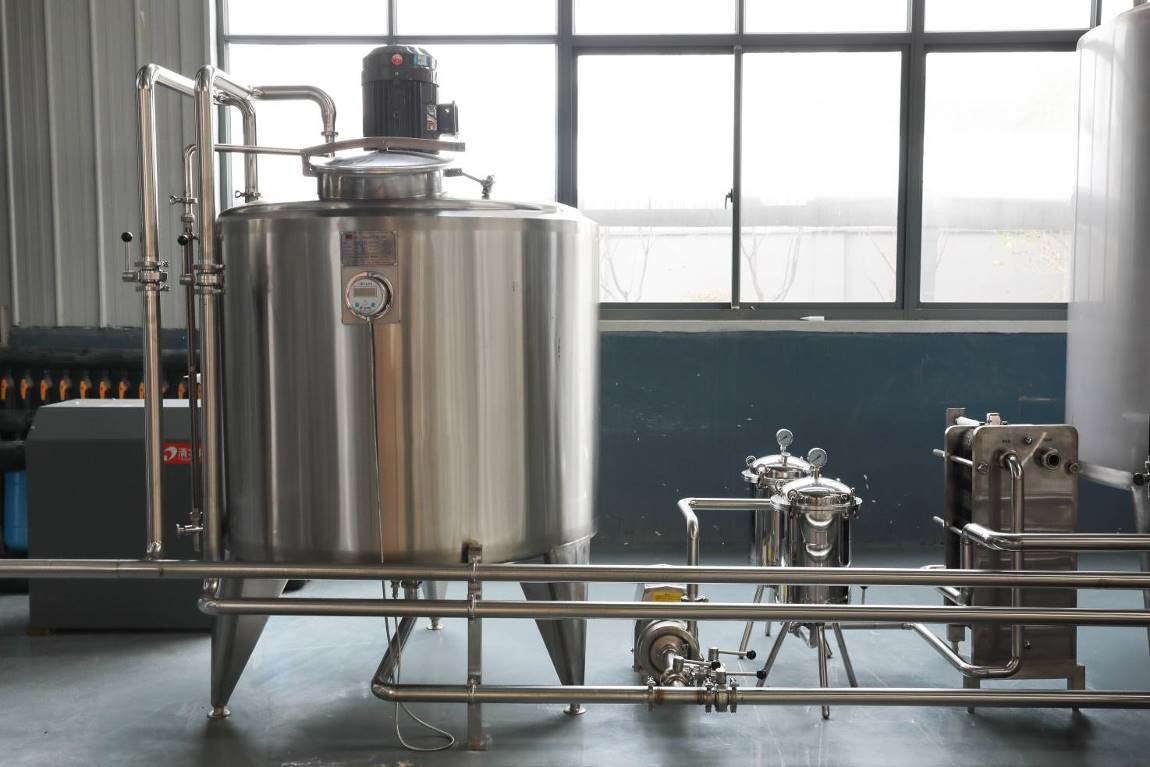 Technical parameters:
| | |
| --- | --- |
| Model: | HTG-3 |
| Capacity: | 5000L |
| Material: | SUS 304 |
| Dimension: | Dia2200* Height3500 mm |
3. Double Filter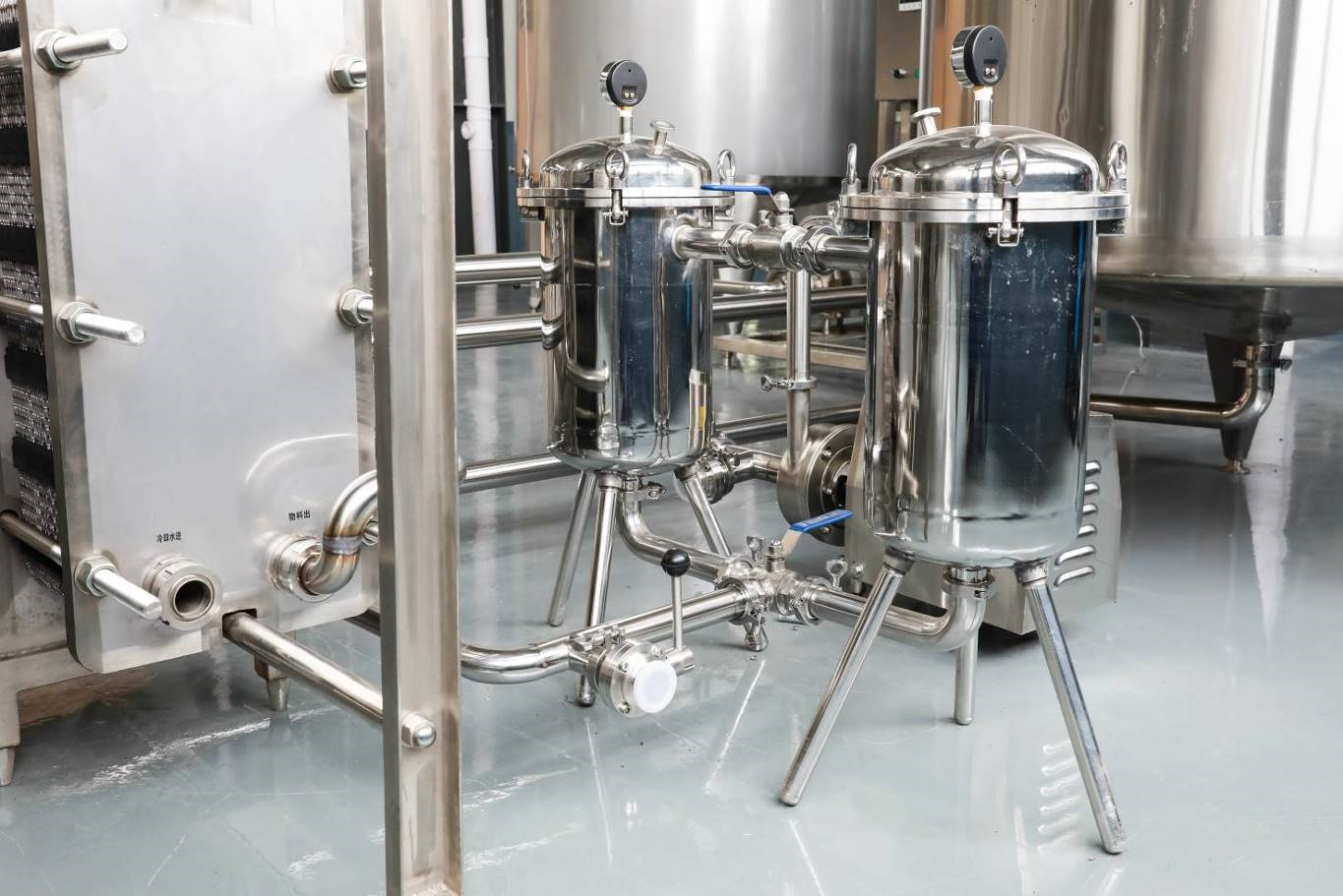 Technical parameters:
| | |
| --- | --- |
| Model: | ZPR-H2 |
| Capacity: | 15000L/H |
| Material: | SUS 304 |
| Working pressure: | ≤0.5Mpa |
| Permanganate ratio: | 1.5/1000 |
| Liquid flowing quantity: | 10L/min |
| Volume of Tank: | 120L |
| Permanganate's amount: | 25 Kg |
| Weight: | 129 Kg |
| Static matter: | 2.8 Kg |
| Absorbed matter: | 12 Kg |
4. Mixing tanks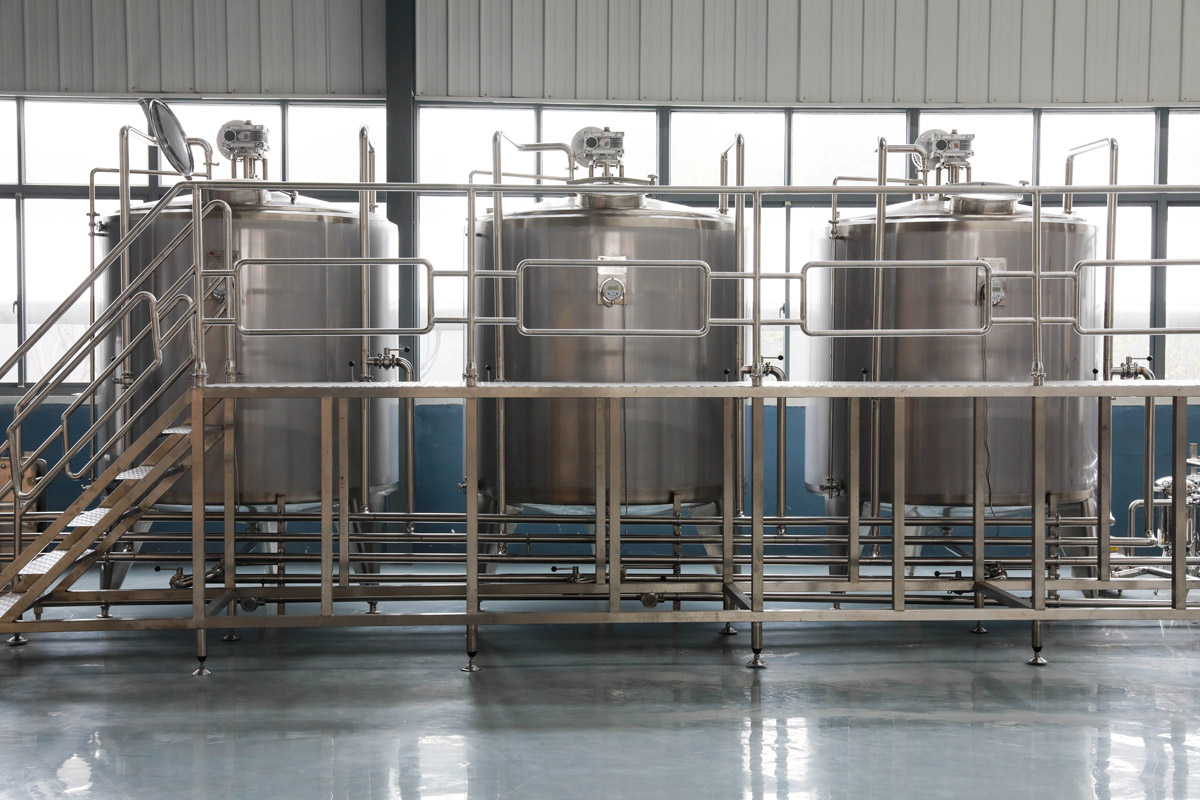 Technical parameters:
| | |
| --- | --- |
| Model: | HZ13000L |
| Capacity: | 13000L |
| Insulate type: | Yes |
| Agitator: | 43R/M |
| Material: | Stainless steel 304 |
| Inside wall thickness: | 3 mm |
| outside wall thickness: | 1.5 mm |
| Tank body size: | Φ1900*2000mm |
| Total power: | 3kw |
| Main components: | dia400 manhole, liquid elve, CIP Cleaning ball, aseptic breath, temperature gauge, mixing motor |
5. Carbonator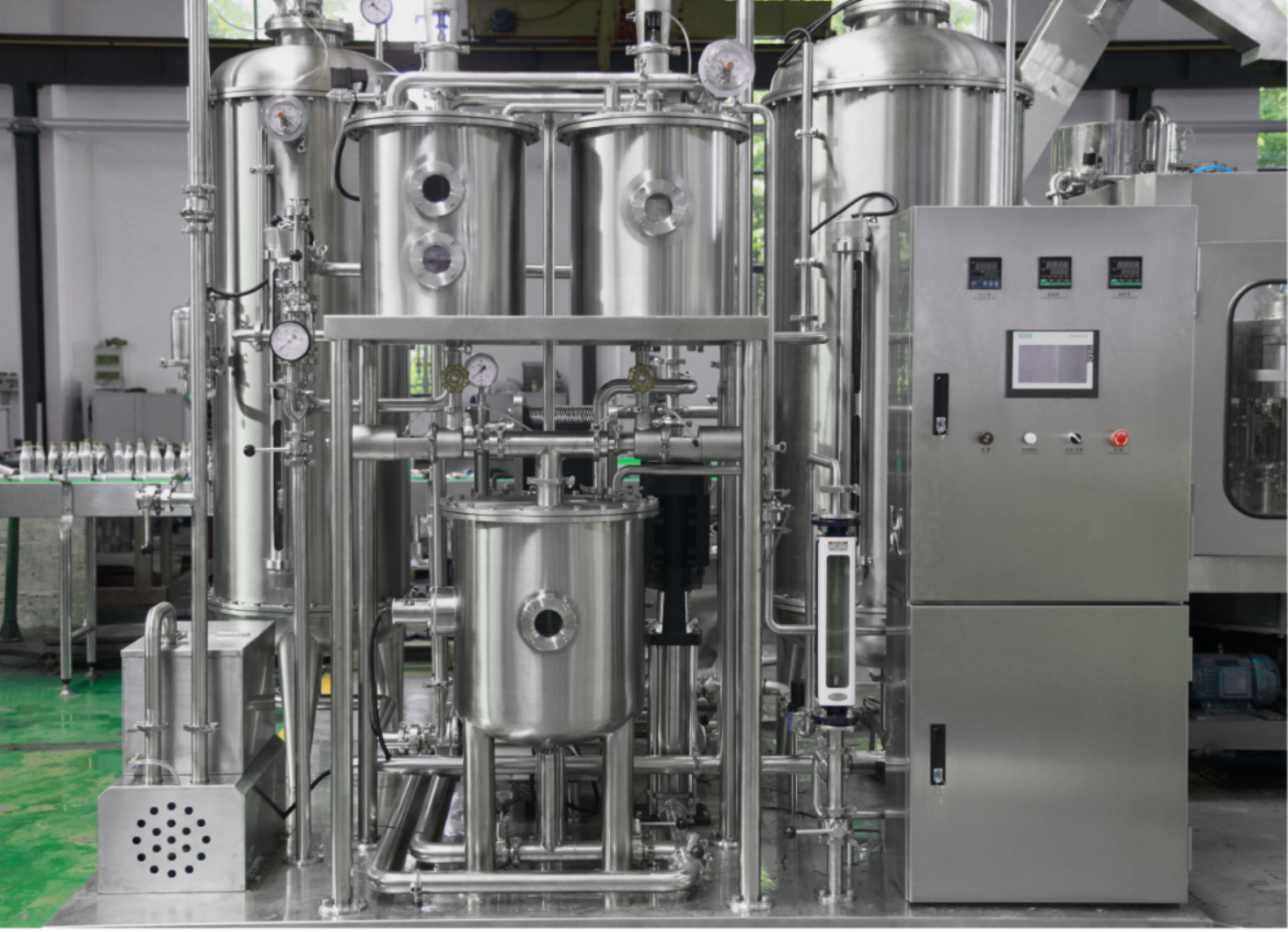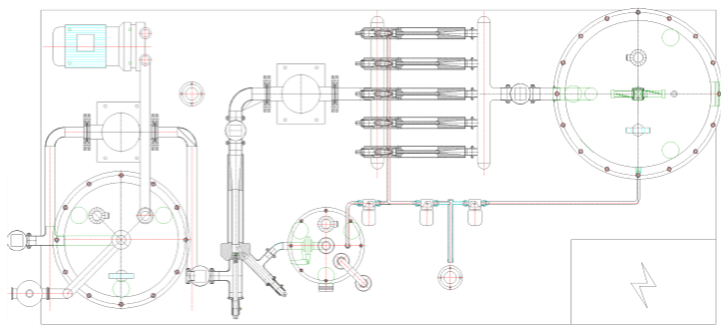 Description:
IN-QHS Soda mixer is an automatic equipment specially designed for the production of various carbonated beverages such as lemon, cola and juice. Compared with domestically produced products of the same type, it has the characteristics of complete functions, accurate mixing, convenient and easy to adjust, and meets sanitary requirements. The structure is novel and reasonable, the structure adopts closed system, and can meet the requirements of cleaning and disinfection. Produces carbonated beverages and can easily adjust production capacity and water to the perfect syrup ratio. In addition, the combination of electrical control and other devices has the characteristics of high degree of automation, coordinated operation, continuous production, good mixing effect and large production capacity.
Working principle:
The IN-QHS automatic injecting gas-water mixer mainly consists of a vacuum section, a batching section and a gas-liquid mixing section.
The vacuum section consists of a closed circuit of the feed water inlet port by means of a solenoid valve, an air chamber, a vacuum pump and a vacuum tank equipped with a sprayer and a level controller.
The adjustment section consists of a ration pump, a slurry inlet line with a solenoid valve, and a syrup tank with a level controller. It consists of a syrup throttle valve and a venturi device. There are two adjustment handles with indicators on the venturi device. The size of the opening of the deaerated water and the sugar liquid outlet is shown, respectively. A certain amount of opening also reflects a certain ratio. For the amount of sugar required for a particular beverage, you can change the size of the opening by turning the sugar adjustment handle.
Gas-liquid mixing section
The gas-liquid mixing section consists of a mixing pump, a CO2 inlet line with a pressure regulating device, a gas-liquid mixed venturi device, a soda storage tank with a level controller, and a soda water output line with a safety valve.
Technical parameters:
| | |
| --- | --- |
| Model: | IN-ZKWC-250D |
| Capacity: | 26000 L/H |
| Mixing ratio(water:sugar): | 1:2 – 1:3 |
| Mixing precision: | ≤2% |
| Content of the CO2: | ≥2.0 times |
| CO2 supplying pressure: | 1-1.3 MPa |
| Heat exchanging area: | 30 m² |
| CO2 consumption: | 6 m³/h |
| CO2 purity: | ≥99.9% |
| Compressed air consumption: | 1.0 m³/ min |
| Compressed air supply pressure: | 0.6-1 MPa |
| Refrigerant: | Ethylene glycol solution |
| Refrigerant temperature: | -2 ℃ |
| Mixing temperature: | 25 ℃ |
| Pressure at purified water inlet: | 0.3-0.4 MPa |
| Pressure at syrup inlet: | 0.3-0.4 MPa |
| Temperature at syrup inlet: | ≤25 ℃ |
| Temperature at beverage outlet: | 1-2 ℃ |
| Pressure at beverage outlet: | ≤0.65 Mpa |
| Power: | 40.45 kW |
| Dimension: | 8000*6000*2600 mm |
| Weight: | 13650 Kg |
6. Hygienic pump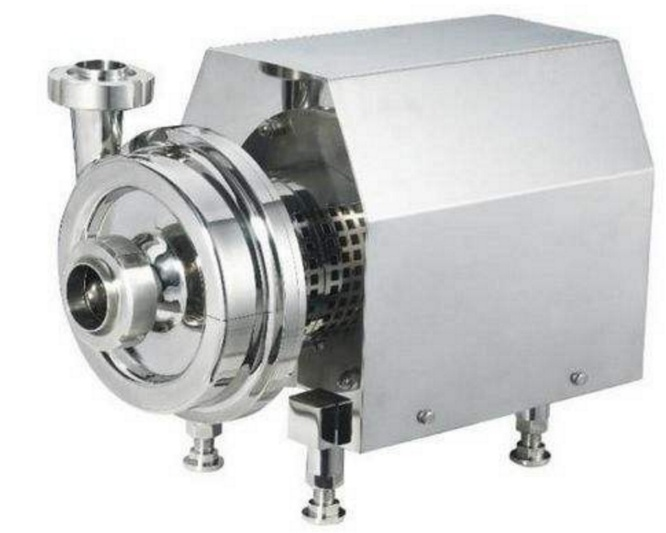 Technical parameters:
| | |
| --- | --- |
| Model: | YA25T/24 |
| Capacity: | 25000Liter/hour |
| Head: | 24m |
| Power: | 5 kw |
7. CIP cleaning system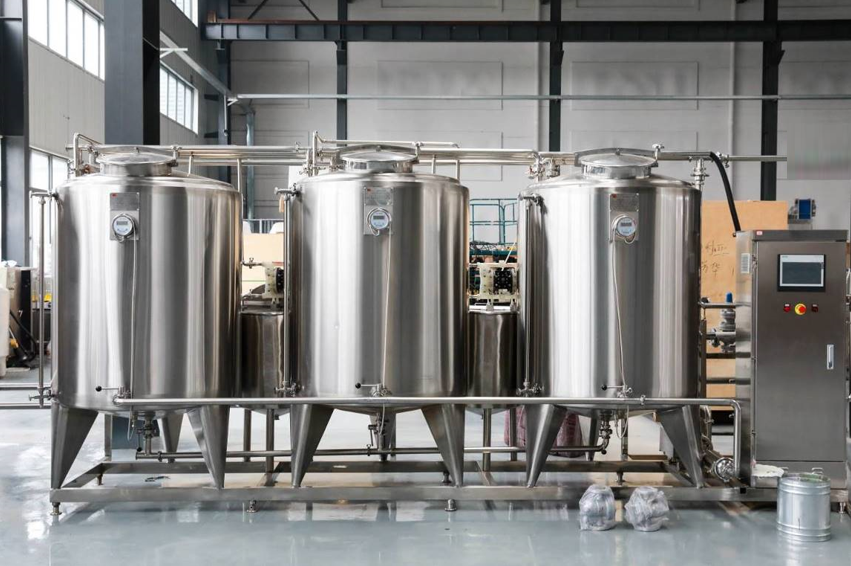 Description:
The whole system consists of water tank, alkali solution tank, acid solution tank, pump, plate heat exchanger
The CIP cleaning system is responsible for the cleaning of the filling machine.
The CIP cleaning system is fully automatic. All cleaning process parameters (cleaning time, acid-base concentration, cleaning solution temperature, cleaning method) can be set on the operating touch screen. When cleaning is required, specify the required cleaning equipment on the touch screen, select the cleaning method (three-step cleaning or five-step cleaning), and start the system, then the CIP equipment will automatically complete the cleaning process according to the preset program. Automatic recovery by acid, alkali and water.
The system has automatic hydration and automatic acid and alkali replenishment, automatic temperature adjustment, display temperature, concentration, liquid level, simulation process status and sound and light alarm function. There are also automatic and manual functions, and various parameters can be modified on the touch screen. The manual function and the parameter modification function are password-protected.
Technical parameters:
Model:
IN-CIP5000L
Alkali tank volume:
5000 L
Acid tank volume:
5000 L
Hot water tank volume:
5000 L
Material of tanks:
SUS 304
Wall-thickness:
2.5 mm
Sanitary pump:
Water flow:
20 m³
Pump head:
24 m
Power:
3 kW
Plate heat exchanger:
Model: BP2-JB-4
Flow: 10000 L/H
Temperature change: 30°C → 85°C
SUS304 Stainless steel structure
EPDM sanitary pad, SUS316 plate
Alkali liquid pump:
100 L/H
Acid liquid pump:
100 L/H
Pipe fittings:
SUS 304
8. Diesel type steam boiler
Features:
The burner is supplied by Baltur, Italy.
Quick start-up, can reachhigh temperature and pressure in short time.
Nature circle, could handlelarge temperature change.
With multi chain protection for water level and steam pressure.
Vertical structure, small footprint,spacesaving and easy installation.
Technical parameters:
| | |
| --- | --- |
| Model: | IN-GL3000 |
| Steam Capacity | 3000 Kg/h |
| Rated working pressure | 0.7 Mpa |
| Real Working pressure | Can be adjusted |
| Hydraulic testing pressure | 1.05 Mpa |
| Diesel | 100 Kg/h |
| Thermal Efficiency | 92% |
| Power Supply | 400V / 50HZ / 3P |
| Saturated steam temperature | 170℃ |
| Main steam valve diameter | 40 DN |
| Safety valve diameter | 40 DN |
| Water in diameter | 25 DN |
| Sewage valve diameter | 25 DN |
| Chimney diameter | 250 DN |
| Overall dimension L*W*H) | 2530*1980*2650 mm |
| Weight | 2800 Kg |
Bottle Blowing Equipment
1. Blow molding machine, 8 cavity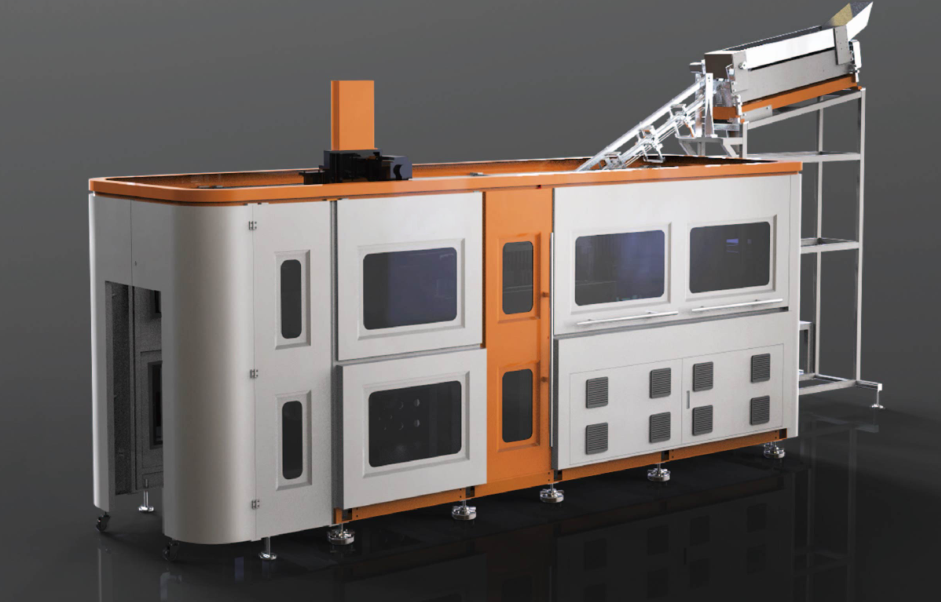 Description:
R series linear full-electric PET bottle blow molding machine is a high-speed automatic PET blower designed and developed with the most advanced bottle blowing technology at present, the advantages of which can be described as speedy, stable, simple, general purposed and environmental safety. It is mainly applicable to blow molding PET containers for water, beverage, juice, etc. The machine yields abundantly with high efficiency. The capacity of each cavity has been increased to 2600~2000bph when the bottle size is equal to or less than 0.55L respectively, which can meet the high-end customer's requirements. Equipped with a preform auto-loading system, the machine works fully automatically with consistent performance and high speed, without an operator's interference during the whole process. Accordingly, the chance of contamination can be reduced manifestly, which assures the quality of products.
Features:
The innovation of mold locking system
Servo Motor is adopted to drive the movement of the 4-piece mold holder and the high-pressure supercharged mold locking mechanism is equipped. This mold clamping and opening mechanism have been developed successfully by ourselves upon dozens of years' practice which is now the most efficient clamping and opening mechanism applied on the domestic linear blow molding machines. The mold movement cycle time is only 0.3~0.5 seconds. Meanwhile, the whole movement is accurate, stable and speedy while the impact between the mold plates have been amortized, which can effectively protect the molds and reduce the visibility of parting lines on the finished bottles.
Application of the motion controller system
Using Omron motion controller system (integration module type), using the PTO (servo positioning module) system for high-speed positioning, looking for track the target location, proximity sensor switch to the servo system is a high-speed signal, by servo motor built-in high inside track the location of the precision rotary encoder online detection, information feedback to the control system, and finally by the positioning module in high-speed positioning work.
Application of the servo motor
The mold movement mechanism: the servo motor reducer synchronical transmission system is adopted to fulfill the reciprocating up and down motion of the two hinge mechanisms on both sides of the mold hauled by two linkage rods respectively. In this way, the two mold holding plates in the middle move oppositely or towards each other, which is generally known as mold opening and closing. The hauling wheel driven by the servo motor makes clockwise rounds continuously. Each round leads to a complete cycle of mold holding plates movement——open and close. Also, the high-pressure air supercharged mold locking mechanism is applied which buffs the impact between mold plates and effectively protects molds. Besides, it does help to reduce the visibility of parting lines on finished bottles. The servo motor driven mold movement mechanism is designed and created upon rigid engineering simulation analysis, which ensures that the series of the mold motions are simple, accurate, consistent and speedy, making cycle time 0.2~0.4 seconds.
The stepping and heating mechanism: Servo motor is driven stepping motion for preform rotary heating system, the preform heating stepping is controlled by variable frequency motor, preforms (preform neck is upwards) are 360 degrees uninterruptedly rotary heating,38mm Preform heating pitch, more preforms are uninterruptedly heated within the same distance, which improves the efficiency and energy saving above 50%.Servo motor driven the steeping motion makes it much speedy and stably, shorten the production cycle time, greatly improve production efficiency. The preform transfer system with the grippers and variable pitch system are both driven by the servo motors to ensure high speed and accurately perform handling between the two mechanisms.
The perform variable pitch system: This mechan
ism has adopted the screw to change the cavity pitch from 38mm to 105mm driven by the servo motors, to ensure high speed and accurately perform handling between the two mechanisms.
Preform transfer system with the grippers and bottle outfeed mechanism: Heated preforms delivering into the blow mold and the finished bottles out-feed driven by the same servo motor and the synchronous belt, to ensure the high speed and accuracy for these two motions.
The stretching mechanism (down stretching): the stretching rods are driven by a servo motor all at once, which ensures the synchronicity of the motion of the rods and makes it easier to do adjustment prior to production.
(After interchanging the blow mold, makes it much easier to adjust the height of stretching rods, just need to input the data on the touch screen, instead of doing the adjustment by manual.)
Energy-efficient heating system
The paratactic collocation of the preform heater shortens the heating pitch between preforms, making good use of the heater's space and energy efficiently, which decreases the energy consumption and the area for installing the machine. Each lamp pipe in the heater can be controlled individually. Moreover, the heaters are equipped with a controlled circulating air cooling system that can keep the temperature constant inside the heater and preforms heated consistently, which makes high good part rate. Additionally, the homo-thermal heater works excellently in the condition where the temperature fluctuates greatly(10℃~30℃). The positioning of the heating stepping system is conducted by the servo motor, swift and stable. The machine is equipped with the preform temperature detection at the last heaters if the preform temperature does not reach the blowing temperature, the preforms going into the blow mold but no blowing, saving the air.
Performance and Advantages:
The man-machine interface is easy to operate. Everything is computerized, including temperature adjustment and preform distribution.
Preform unscrambling, loading, bottle handling, and order are all operated by stainless steel manipulator automatically without second contamination.
The circulating chilling water system, as well as the fan with converter controlled, can protect the bottleneck against deformation when the preform is being heated.
The homo-thermal heater adopts auto reflection and closed-loop adjusting system which has the power supplied constantly in proportion, not affected by the fluctuation of voltage. The conveying chain is short-pitched and paratactic, which helps to realize slow heating and low power consumption. As a result, the preform can be heated evenly and easy to blow.
The positioned installation of molds makes it possible to change molds easily within one hour.
All the critical parts we use for the machines, such as the electrical, pneumatic components, servo motor, etc, are famous branded parts imported from Japan, USA and Europe,which ensures the stability and long life of our equipment.
Easy Maintenance
Since the machine is connected to the programmable logic controller (PLC) via particular communicating cables, the user can manage all the actions of the machine through the PLC, which will send warning signals and the problem diagnosis report to the operators when there is something wrong with the machine. Accordingly, the operators can easily find out the causes that lead to the problems through the indications shown and fix them quickly.
R series is equipped with following mechanic and electric protecting devices in order to assure the safety of operators and durable stable operation of the machine.
The machine is totally enclosed with a perfect reliable safety door and also equipped with an aluminum antislip plate on the principal surface, which can assure operators' safety to the largest degree.
The safety of the machine
The multiple points detection technique is adopted to ensure the safe running of the positioning system, the clamping system, and the stretching system to the largest degree.
Technical parameters:
Model
IN-8CR2LServo
Blowing part
Mold clamping force
72000 Kg
Side mols stroke
130 mm
Blowing rod stroke
350 mm
Bottom mold stroke
50 mm
Bottles' distance
120 mm
Cavity
8 cavities
Bottle specification
Bottle max volume
2 L
Bottle mouth size
18-30 mm
Max body diameter
105 mm
Max body height
350 mm
Preform
3 mm
Actual capacity
13000 BPH (2000ml)
Power consumption
Heating oven
4 pieces
Heating tubes
36 pieces
Nominal power consumption
78 kW
Actual power consumption
40-56 kW
High pressure air compressor
Blowing pressure
35-45 Kg
Compressed air consumption
10 m³/min
Chilling water
Operating pressure
Over 4 Kg/cm²
Temperature range
5-20 ℃
Cooling capacity
21000 kcal/hour
Cooling water flow
70 m³/hour
Machine specification
Dimension
6607*1916*2634 mm
Weight
10000 Kg
Electric components
Items
Supplier, Origin
PLC
HTC, Taiwan
HMI
BeckHoff, Germany
Servo motors

(Servo motor driven the stretching system, the stepping system, the mold clamping system, the preform transfer system, th

e variable pitch system)

Delta, Taiwan
Speed reducer
Siemens, Germany
High pressure blowing valve

(With compressed air recycling system)

Parker, USA
Pneumatic components
FESTO, Germany
Control button, intermediate relay
Schneider, France
Contactor, thermo relay
Schneider, France
Silicon controlled rectifier
Semikron, Germany
Infrared tungsten tube
Lianggu, China
VFD
Taian, Taiwan
1.1 Air chilling machine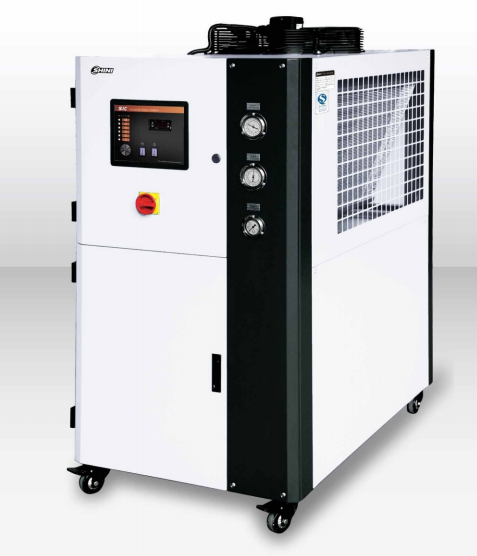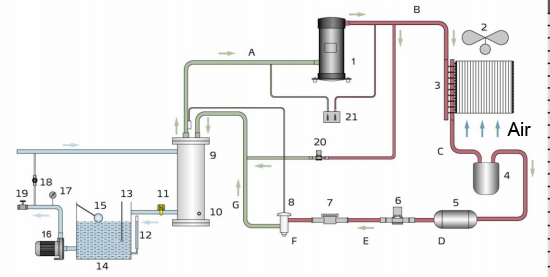 Description:
After the SIC-A series chiller is turned on, the compressor 1 starts to work, turning the refrigerant into a high-temperature compressed gas. The gas circulates in the direction to BC, enters the condenser 3 and exchanges heat with the air, and changes from a gaseous state to a liquid state. while the heat is taken away by the air.
In the CDEF process, the liquid condensing agent coming out of the condenser passes through the liquid storage device 4, passes through the drying filter 5, get dried and filtered, passes through the liquid pipe solenoid valve 6, and the liquid crystal mirror 7 then  reaches the expansion valve 8.
During the FG process, the high-pressure liquid refrigerant is throttled and depressurized by the thermal expansion valve, and the temperature is lowered.
During the GA process, the low-temperatur
e & low-pressure refrigerant exchanges heat with the chilled water through the evaporator 9 to cool the chilled water to the preset temperature; the low-temperature gas refrigerant that comes out after the evaporator returns to the compressor, and finishes the recycle.
Technical parameters:
Model
SIB-20A
Cooling ability:
52 kW
44,720 kcal/hr
Compressor(output power):
16.12 kW
20 HP
Refrigerate agent:
Weight:
18 Kg
Controlling method:
thermal expansion valve control
Type:
R22
Evaporator:
Shell type
Condenser:
Type:
Finned condenser
Fan power:
1.6 kW
Water tank volume:
230L
Water pump:
Power:
2.2 kW
Water flow:
80/100/89 L/min
Working pressure:
2.0/2.6/3.5 kgf/cm²
Total power:
19.92 kW
Actual power consumption:
40-70%
Pipe fitting:
Water inlet diameter:
1.5 inches
Water outlet diameter:
1.5 inches
Water tank discharging hole diameter:
1.5 inch
Water tank overflow hole diameter:
1.5 inch
Protection devices:
Compressor:
Overload relay
Pump:
Overload relay
Chilling circuit:
High/low voltage switch / anti-frost switch
Water loop:
Bypass valve
Power supply:
380V 50 Hz
Component list:
| | |
| --- | --- |
| Items | Supplier, Origin |
| Contactor | Schneider, France |
| Thermal relay | Schneider, France |
| Thermal temperature table | Schneider, France |
1.2. High pressure air compressor
Technical parameters:
| | |
| --- | --- |
| Model | MC(A)W-090 |
| Capacity: | 10 Nm³/min |
| Pressure: | 4Mpa |
| Cooling method: | Air cooling |
| Compressing stage: | 2 |
| Main motor: | 110 kW, IP54 |
| Noise: | ≤ 68±2dB(A) |
| Oil content(ppm): | ≤ 1 |
| Safety valve set pressure Mpa | DISCHRGE PRESSURE+0.1 |
| Dimension: | 3000*1800*2000mm |
| Weight: | 2300 Kg |
2.1 Compressed air-cooling drying filtering system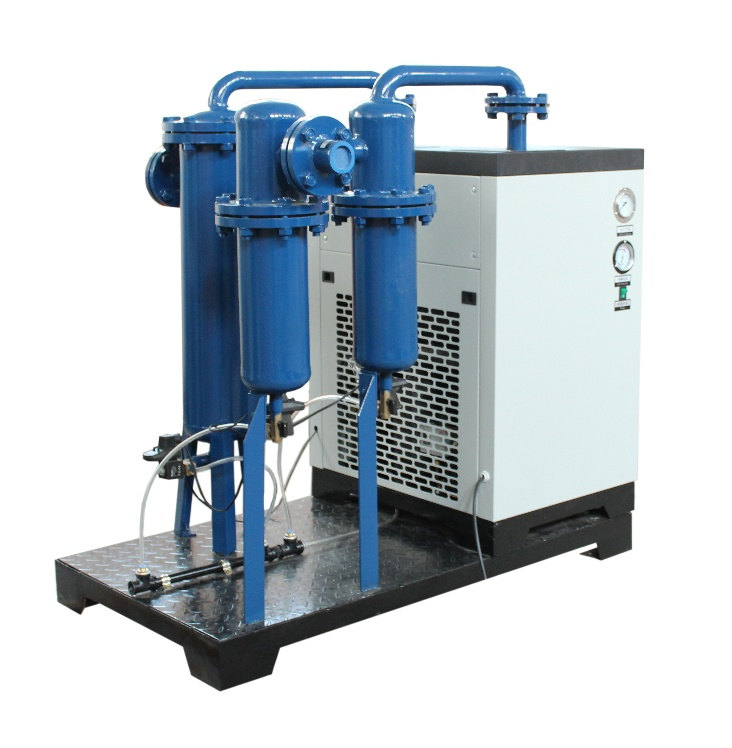 Technical parameters:
Model
NTLN-10.0
Capacity:
10 Nm³/min
Working pressure:
4.0 Mpa
Water filtering capability:
99%
Cooling ability:
1.5 HP
Dew point:
2-10°C
Stroke:
146 mm
Cooling agent:
R22
Initial filter:
Oil ≤ 5mg/m³, Granule dia. ≤ 3um
First stage precision filter:
10 m³, 4.0 Mpa,

Oil ≤ 1 ppm

Granule dia. ≤ 0.3 um

Second stage precision filter:
10 m³, 4.0 Mpa,

Oil ≤ 0.01 ppm

Granule dia. ≤ 0.01um
Filling & Labeling Equipment                                                 
1. Rinsing-filling-capping Tri-block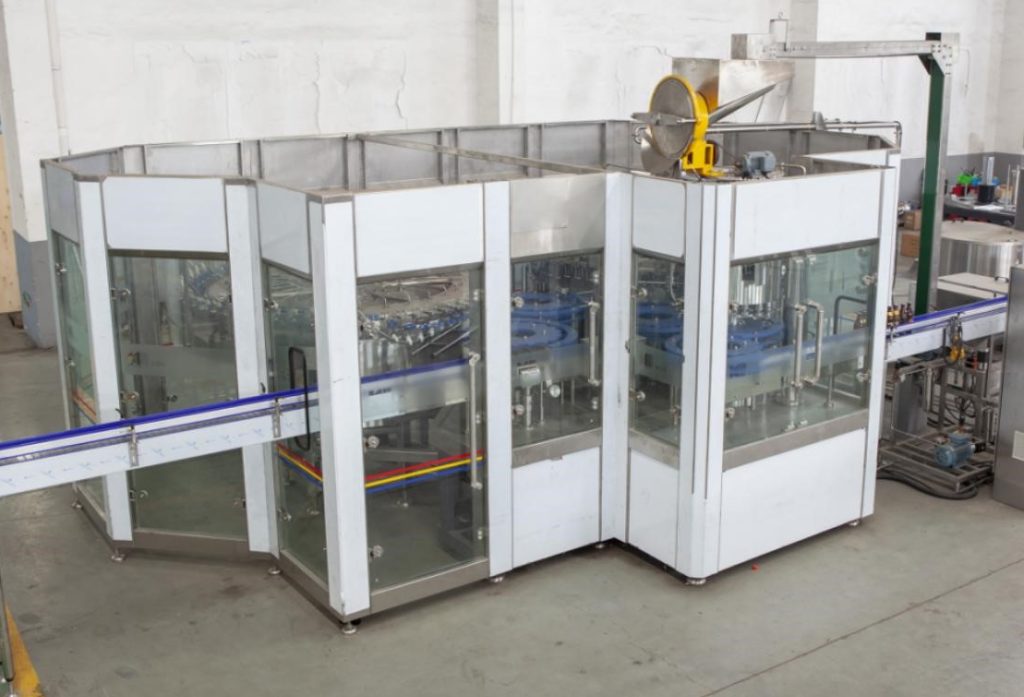 Description:
Welded by SUS304. Product contact is SUS304 food grade;
High-efficiency rinsing-nozzles can spray water to any part inside the bottle;
Corrosion-resistant bearings from NSK or SKF;
Counter pressure filler.
Open design for gear transmission;
Bottle transporting system is neck-holding design;
Equipped with VFD control, more energy-saving;
PLC control system is equipped;
All electric components are supplied by the world-famous companies;
French "ZALKIN" capping technology is used forhigher performance;
Capping torquecan be adjusted accordingly;
Cap absence can be detected and up-side down caps can be picked out;
Technical parameters:
| | |
| --- | --- |
| Model: | INGF40-120-10 |
| Capacity: | 13000 B/H (2000ml) |
| Bottle height: | 120-310 mm |
| Bottle diameter: | 50-96 mm |
| Bottle mouth diameter: | 26-40 mm |
| Bottle type: | PET bottle |
| Cap type: | Aluminum cap |
| Material of the water dispenser: | Poly tetra fluoroethylene |
| Rinsing heads: | 40 |
| Rinsing time: | over 2 seconds |
| Filling heads: | 120 |
| Filling temperature: | normal temperature |
| Filling pressure: | 0.2-0.4 Mpa |
| Flow velocity of the valve: | 120-150 ml/s |
| Filling valve: | SUS304 |
| Product reservoir tank: | SUS304 |
| Main motor power: | 13 kW AC 380V 50Hz IP55 |
| Installation power: | 25 kW |
| Power supply: | 380V, 50HZ |
| Consumption of compressed air: | 0.8 m³/min (0.6MPa/H) |
| Consumption of aseptic water: | 0.4 m³/min (0.2-0.25Mpa) |
| Dimension: | 8600*6550*2300 mm |
| Weight: | 16500 Kg |
Component list:
Items
Supplier, Origin
PLC
Siemens, Germany
Touch screen
VFD
Siemens, Germany
Contactor
Siemens, Germany or Schneider, France
Thermal relay
Switches
Photoelectric electric sensor
Autonics, Korea
Pneumatic components
Airtac, Taiwan
Temperature sensor
OMRON, Japan
Bearing
SKF, Sweden or NSK, Japan
Detailed description
A. Rinsing part:
Features:
Rotating type, used for rinsing containers of alcohol, beverage, pure and mineral water.
Neck-holding catchers turn bottles upside down, and rinse them by aseptic water.
Main structure, contact parts of the aseptic water and the cover are made of stainless steel.
Bottle sensor is installed to prevent wrong-position bottles from being feeding in.
Pressure gauge and valve stabilizer are installed on the water inlet pipe.
Able to adjust the height to match the different-height bottles(have maximum and minimum height protection).
Has aseptic water recycling system. For choice
It automatically stops rinsing when bottle-absence detected, and restarts when bottle-presence detected.
B. Filling part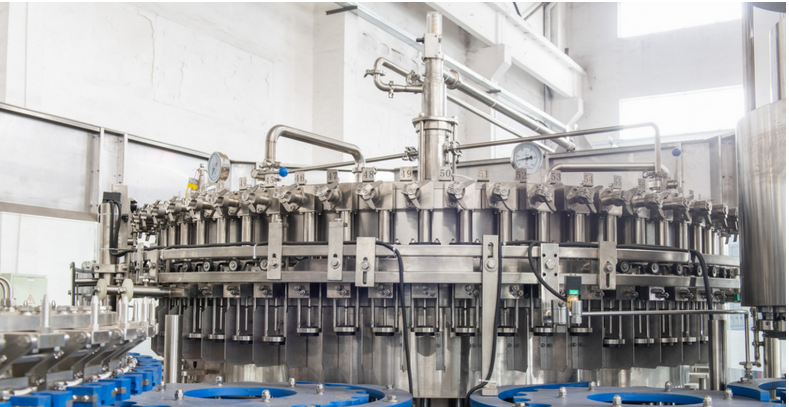 Features:
Micro-negative filling technology.
Insulated product reservoir, real-time temperature monitoring.
Bottle-bottom holding structure to ensure bottle mouth and the filling valve connect seamlessly, avoiding product loss.
CIP system is equipped, can be connected to the main CIP.
The filler is able to adjust the height to match the different-height bottles.(Have maximum and minimum height protection)
Open style gear transmission, easy maintenance.
One nylon gear and one steel gear as a transmission unit, low noise, low weariness.
German IGUS sliding sleeves are used on the bottle elevating rods, to minimize the weariness between the neck-holding part and the elevating rods.
The motor is adjusted by the VFD.
Bottle transporting system has simple structure, short changeover time to fit different bottles. Neck-holding method for transporting.
PLC system controlled, errors can be displayed on the screen, such as: bottle jammed, cap absence.
No bottle, no fill.
The liquid level inside the filling tank is monitored by the sensor, ensuring stable filling.
·The key electric parts are made by the world-famous companies.
C. Capping Part
Features:
Caps will be unscrambled in the silo, the amount is monitored.
A flip-over adjuster installed on the slide to avoid up-side-down caps.
Two photoelectric sensors installed on the slide to alarm the cap-absence.
The capper is able to adjust the height to match the different-height bottles.(have maximum and minimum height protection)
D. Cap loader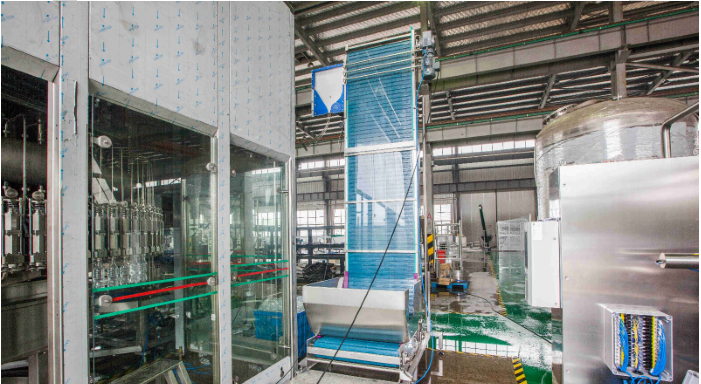 Features:
Waterfall type cap sorting method.
No damage on the cap.
Transparent PC board for cap sorting.
Equipment with AC motor and speed reducer.
Indicator light for cap absence.
Upside-down caps will be picked out and sent back to the hopper.
Technical parameters:
| | |
| --- | --- |
| Model: | IN-SGJ |
| Cap type: | Flat cap |
| Material: | SUS 304 |
| Conveying capacity: | 10000 caps/h |
| Power: | 0.37 kW |
1.1. Cap online sterilizer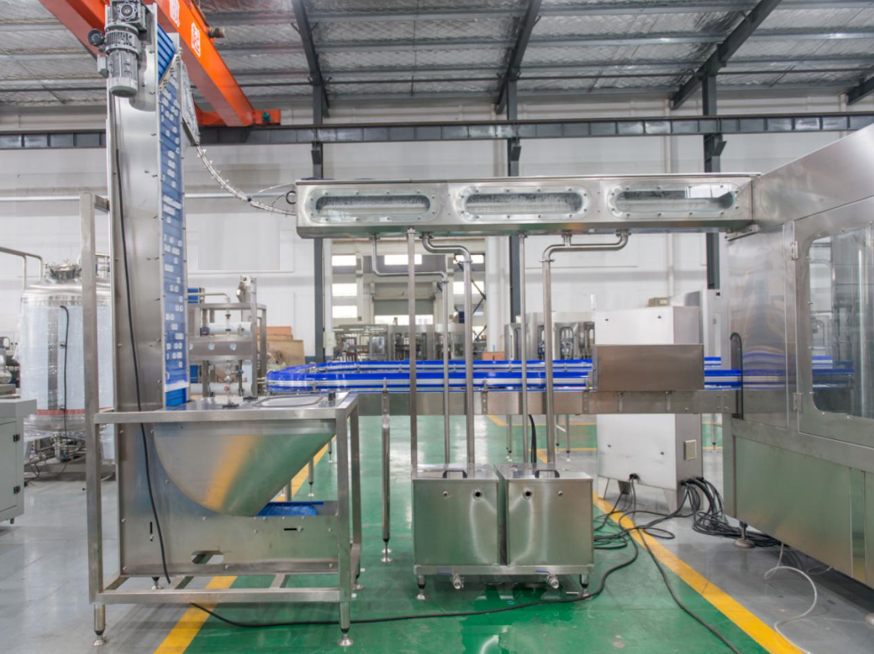 Description:
High efficient centrifugal cap-unscrambling method, low wear.
Cap detecting system provide signals to control the cap lifter.
Special design on the cap unscrambler's guild rail to prevent the up-side-down caps passing through.
Caps would be sprayed by disinfecting solution, rinsed by aseptic water and dried by aseptic compressed air.
Disinfecting solution tank has maximum and minimum liquid level, allowing replenishment.
Technical parameters:
| | |
| --- | --- |
| Model: | IN-XDJ |
| Disinfectant solution sterilizing time: | 15s |
| Aseptic water spraying time: | 5s |
| Aseptic compressed air drying time: | 3s |
| Consumption of the aseptic water: | 1 Ton/H (0.2 MPa) |
| Consumption of compressed aseptic air: | 1000 L/Min (0.6-0.7 MPa) |
| Consumption of the normal air: | 800 L/Min (0.6-0.7 MPa) |
| Power: | 1 kW |
| Weight: | 900 Kg |
| Length: | 3500 mm |
| Manufacturer: | INPAKT |
2. Light Inspection Box
 Description:
Indispensable equipment for beverage production line, eliminating defective products.
Technical parameters:
| | |
| --- | --- |
| Model: | IN-DJ |
| Lighting tube quantity | 3 |
| Power consumption: | 3*20 W |
| Material for framework: | Stainless steel 304 |
| Manufacturer: | INPAKT |
3. Bottle warming machine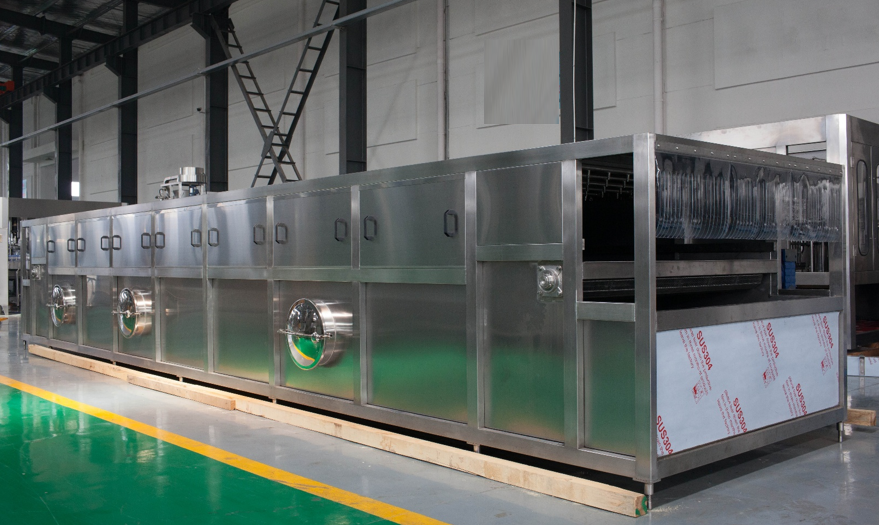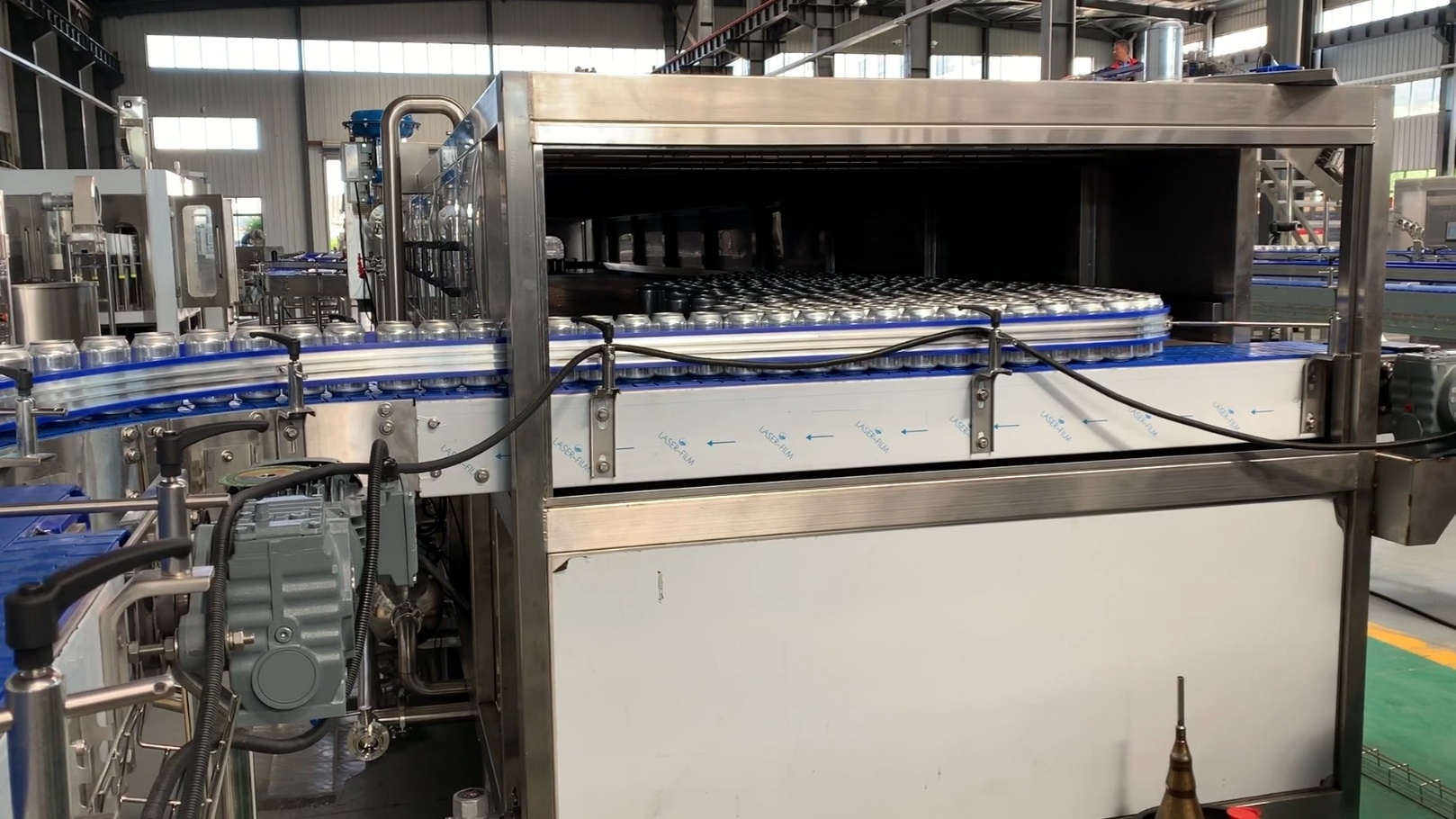 Description:
The tunnel is used to warm bottles up to room temperature, for preserving taste and ensuring the quality of labeling and wrapping/packing processes. The machine sprays high temperature water onto the bottle to warm the bottles up. The cooling area is divided into five section, the temperature gradually increases while bottles pass by sections. When coming out of the tunnel, the bottles reach the room temperature.
Features:
Highly reliable conveyor, flexible and convenient shifting system.
The conveyor belt for conveying bottles is a high-strength plastic chain net with good strength and certain wear resistance.
The main drive adopts a continuously variable motor, which can easily change the conveying speed of the conveyor belt.
Efficient water spraying system.
The machine adopts neatly and orderly arrangement of atomizing nozzles on the top of the chain plate to spray water to warm the parts of the bottles evenly, so that the spray water can be fully utilized and the spraying coverage area is large.
Temperature control is sensitive and easy to set.
This machine adopts temperature control system, high temperature control precision and sensitive response.
Technical parameters:
| | |
| --- | --- |
| Model: | IN-WPJ-10-2.2 |
| Capacity: | 13000 BPH |
| Material: | SUS304 |
| Motor power: | 0.75 kW |
| Dimension: | 10000*2200*1550 mm |
| Weight: | 8600 Kg |
| Steam consumption: | 450 Kg/H |
| Air pressure: | 0.7 Mpa |
4. Bottledryer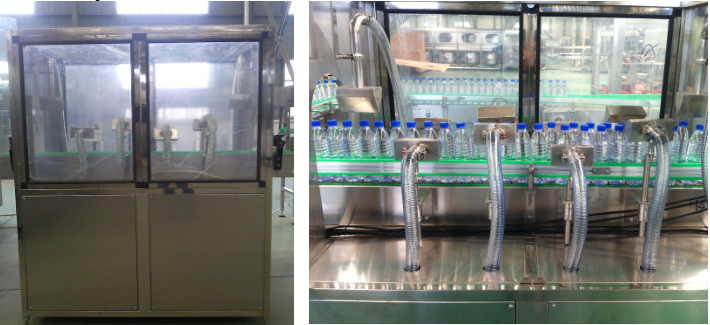 Features:
The blower adopts a fan as the air source.
An air knife type structure, and the size of the sealing can be adjusted.
The top side and the two vertical sides of bottles can be blown to dry thoroughly.
Easy for labeling, printing, packing operations.
Technical parameters:
| | |
| --- | --- |
| Model: | IN-CGJ |
| Capacity: | 6000 B/H |
| Length: | 800 mm |
| Dimension of the blower: | 40*40 mm |
| Power: | 7.5 kW * 2 |
| Material: | Stainless steel 304 |
| Dimension: | 1200*350*1400 mm |
5. Hot-melt glue labeler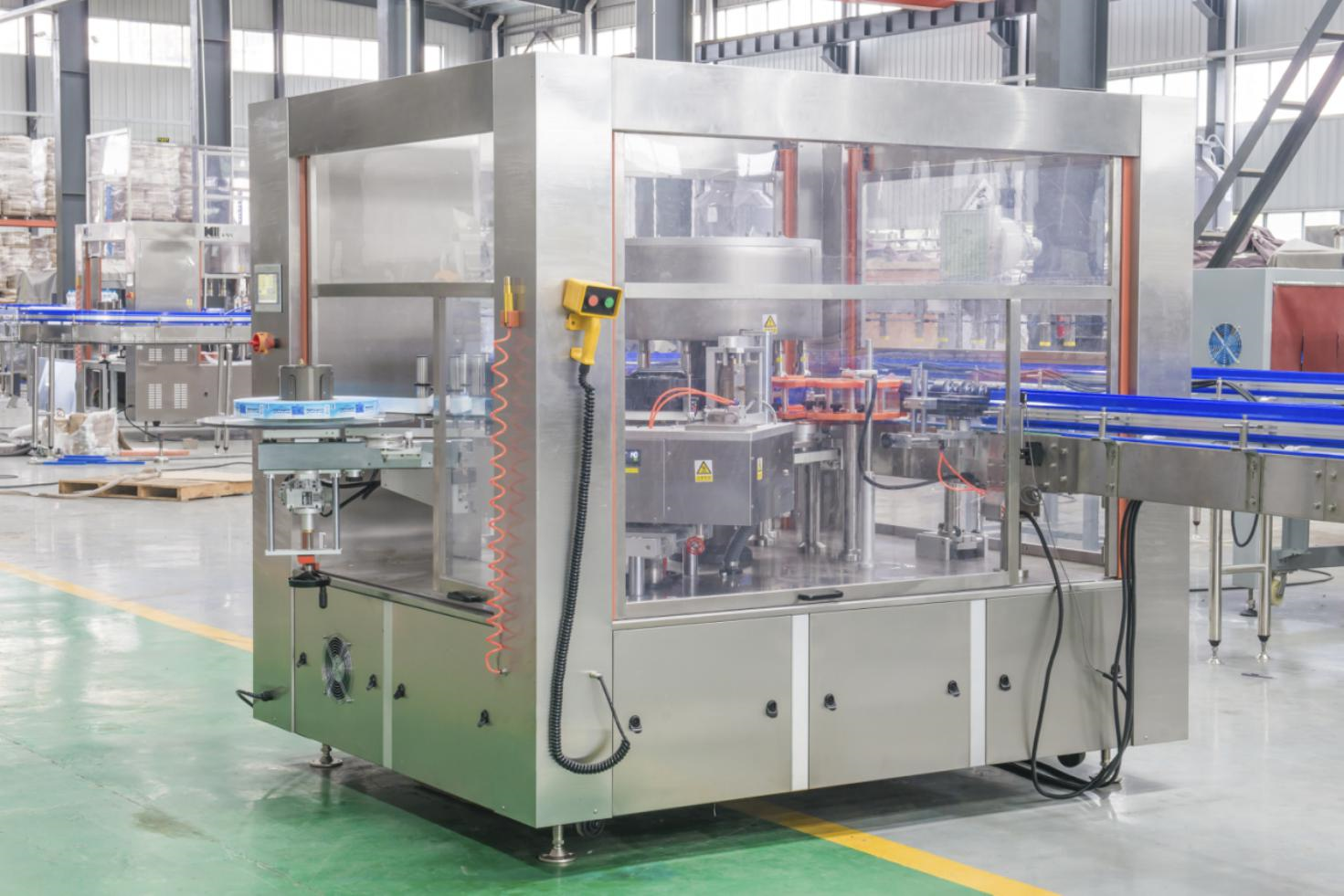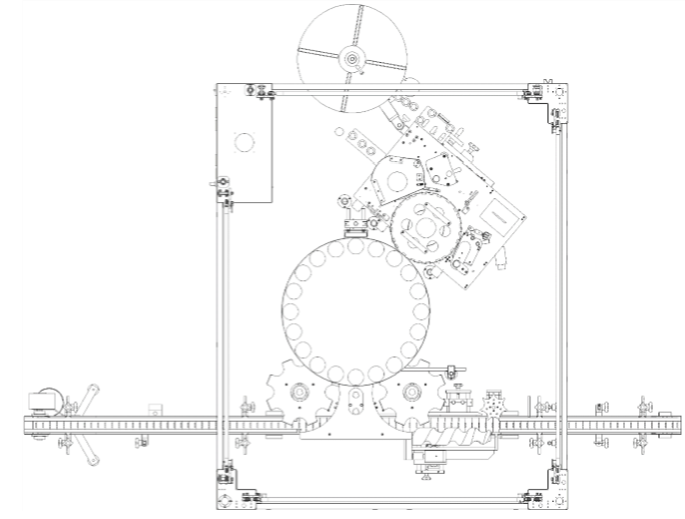 Mechanical parts
Transportation institution: Italy TRANSTECNO motor 0.75Kw (with deceleration by MOTOVARIO ), inverter speed control
Conveyor: Italy  FLEXON  LF820-K325 industrial nylon chain plate conveyor
Mainframe transportation institution: Italy TRANSTECNO  AC motor 2200W (with deceleration by TRANSTECNO)
Sub bottle institution: industrial worm sub bottle institution
Into bottle institution: with worm sub bottle institution and starwheel position feeding institution to ensure the accuracy  and stability of loading
Position institution: Mechanical pre-location , using the cam-wheel institution to planish the bottle for label positioning
Labeling institution: Containers are pick up by rotary wheel ,labeling during the rotation.
Supply label institution: High speed servo opp label supply system (drive by servo-motor)
Pressing label institution: Arc brush unit
Guided bottle institution: Adjust by double coordinate section guide rail
Glue supply system: Hot-melt glue supply system(Germany SEIMEC control system) ensures the accuracy and uniformity of gluing
Safety part of the machine
Safety protection: In order to keep the operator safety ,when the machine is running please close the protective doors
Lack of label alarm: Set an alarm to remind the operator to change the label when the label will be use out
Lack of bottle alarm: When lack of the bottle the machine will stop and make an alarm .The machine will restart automatically as soon as the bottles have been put that will facilitate on-line production
Leak of labeling alarm: To control the quality of labeling
Pressure testing: When the pressure can not meet the equipment requirement ,the machine will stop to against bad products produce
Vacuum testing: When the vacuum can not meet the equipment requirement ,the machine will stop to against bad products produce
Temperature testing: When the temperature can not meet the equipment requirement , the machine will stop to against bad products produce
Method of Operation:
The containers are picked up by the in-feed star-wheel and transferred to the container table. The container rotation begins when they are positioned between container plates and centering bells.
The speed of the feed roller is adjusted to the required label length for continuous web tension. A standard threading unit ensures optimal film feed. In the cutting unit, the labels are precisely cut while a PLC command and servo-motor provide an exact cut-off point.
Two narrow strips of hot-melt glue the labels together, which are applied by a heated glue roller to the leading and trailing label edges. The label with the glue strip on its leading edge is transferred to the container. This glue strip ensures an exact label positioning and a positive bond. As the container is rotated during label transfer, labels are applied tightly. Gluing of the trailing edge ensures proper bonding.
Process:  In-feed bottle →  pre-positioning → label cutting → gluing → labeling→label by press out → finish
Technical parameters:
| | |
| --- | --- |
| Model: | IN-R12H |
| Power supply : | Three-phase 380V 50 Hz 10000W |
| The total length of equipment: | 3000mm (conveyor length 3000mm or can be regulate base on your product lines) |
| Equipment width: | 2300mm |
| Conveyor speed: | 30m/min (the speed of the transmission lines can be adjusted according to actual production) |
| The method of speed adjustment: | uninterrupted – adjust rate |
| The largest Speed of labels feed: | maximum speed of 100 meters labels / min |
| The largest speed of labeling: | 6000 BPH |
| Labeling accuracy: | ± 1mm |
| Integrated Labeling accuracy: | ± 1mm |
| Product Size: | 500ml |
| Maximum label width: | 150mm |
| The maximum length of label: | 500mm |
| The maximum diameter of label: | 600mm |
| Paper core diameter: | 152 mm |
| Labeling glue: | leading and trailing edge gluing with hot melt |
| Gluing temperature: | 120~160℃ |
| Type of label: | opp label, paper-plastic composite film label, paper label |
| Labeling workstation: | 20 per cycle |
| The quantity of labeling mold: | one suit (to be satisfied with one product, each mold contains infeed worm, in-feed star-wheel, discharge star-wheel, position bottle and so on ) |
| Machine weight: | 3000 Kg |
Component list:
| | |
| --- | --- |
| Items | Supplier, Origin |
| Servo motor | Siemens, Germany |
| Servo drive | Siemens, Germany |
| Inverter | Siemens, Germany |
| Switch | Schneider, France |
| Breaker | Schneider, France |
| Relay | Schneider, France |
| Emergency stop switch | Schneider, France |
| PLC Programmable Controller | Siemens, Germany |
| Touch-screen | Siemens, Germany |
| Fiber Cable | KYENESE, Japan |
| Fiber amplifier | KYENESE, Japan |
| Electric eye test | SUNX, Japan |
6. Date Batch coder
Features:
Speed without compromising quality:
Ideal solution for a range of slow to moderate speed applications:
Single line maximum speed of 162 m/min (533 ft/min)
Two line maximum speed of 59 m/min (194 ft/min)
Three line maximum speed of 29 m/min (96 ft/min)
Store up to 100 complex messages for easy recall. Store even more messages using a standard USB memory stick
Small and portable, the 1220 is easily moved from line to line with minimal connections
Engineered to keep your line running:
Videojet's advanced core technology includes all ink system filters and common wear parts
Intervals of up to 9,000 hours between preventative maintenance
Auto cleaning printhead for fast start-ups, even after extended shutdowns
Optional internal air pump eliminates need for external air, minimizing potential for contaminants to enter the ink stream
No mess, no waste fluid delivery:
Advanced fluid management reduces makeup consumption to as low as 2.4 ml/hr
Smart CartridgeTM fluid delivery system to virtually eliminate spills and help ensure the correct fluids are being used
Simple Usability via Videojet standard CIJ interface:
Bright display with WYSIWYG and function keys for easy operation
User levels to separate operation from installation and maintenance
Prompted user fields to help reduce errors.
Technical parameters:
Model:
VJ-1210
Line speed capability:
Can print 1 to 3 lines of print at speeds of up to 533 ft./min. (162.5 m/min.) (10 characters per inch, single line of print)
Font Matrix Configuration:
5×5, 5×7, 7×9, 11×16, 17×24
Twin-line:
5×5, 5×7, 7×9
Tri-line:
5×5, 5×7
Nominal Character Height:
Selectable from 0.079'' (2 mm) to 0.279'' (8.5 mm), depending on font 230 Kg
Throw Distance:
Optimal: 0.472'' (12 mm)

Range: 0.197'' (5 mm) to 0.591" (15 mm)

Keyboard:
Membrane style with tactile feedback, including 72 numeric, alphabetic, and special function keys. PC-style layout to approximate international PC convention.
Display:
320×240 Bright blue backlit 5.7'' LCD display. WYSIWYG onscreen message editing
Custom Logo/Graphics:
Can be created by individual user on printer or PC with optional Videojet
Manufacturer:
VideoJet, USA
7. Automatic shrink wrapper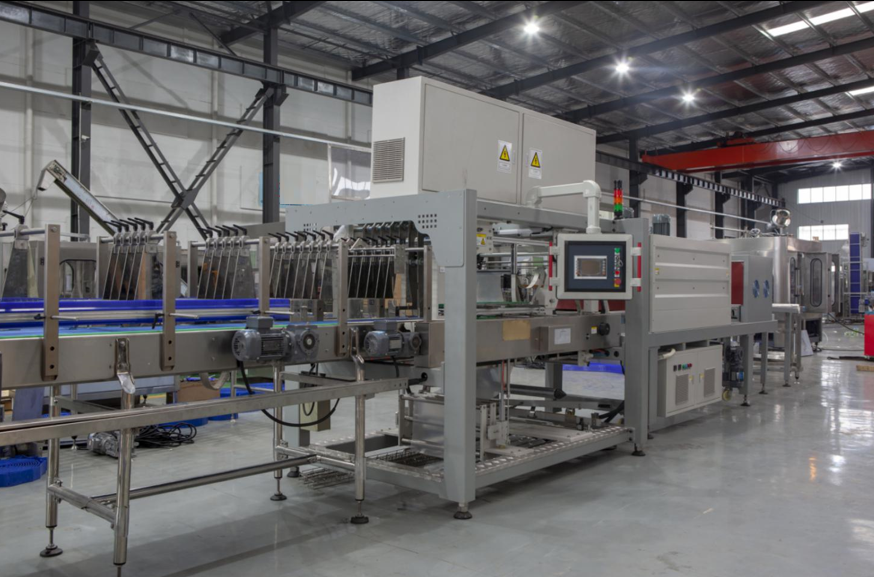 Features:
Tray function integratedwithfilm packaging on single machine.
Cylinderwith asuction device, cardboard grasping mechanism, cardboard failure rate reduced down to 0.5%.
Unique open-design forcardboardstorage system, efficient cardboard feeding, large cardboard storage space.
Shrinkingchamber usesa unique circular air supply technology to achieve multi-directional air flow control, adjustable air flow speed, adjustable outlet position, greatly improved shrinkage effect.
Distance between the individualcooling tunneland shrink tunnel longer than 500 mm, cooling effect sufficiently, greatly reduced the interaction between hot air and cold air, for energy-saving.
Tray folding mechanism introduced into fourdrivingchains, quick product changeover time, 30 minutes reduced upon traditional type.
The whole machine designed with energy-saving technology, saves 30% powerconsumption, low-carbon and environment-protection.
Modular designfor easy maintenance.
Technical parameters:
Model:
IN-DTMB250
Capacity:
40 package/min
Sealing time:
0.5-1.5s; 0-0.5s
Shrink film:
PE/PET/POF film
Power supply:
49 kW
Conveyor loading:
30 Kgs
Working voltage:
Three-phase-five line 380V/50Hz, 60KW

Control voltage: IN24V

Working pressure:
0.6~0.8Mpa (without oil without water)
Air consumption:
380-400NL/min
Pipe Joint Size:
Φ12
Shrink chamber:
L*W*H=2400*650*450(mm)
Shrink temperature:
130℃~230℃
Width of film roll:
≤580mm
Thickness of film:
0.06~0.10mm
Diameter of film roll:
≤300mm
Tray requirements
three layers of corrugated cardboard
surface roughness and thickness
5mm
Working noise
≤80dB
Total weight
5000 Kg
Electric Components
| | |
| --- | --- |
| Items | Supplier, Origin |
| Servo motor &control system | B&R, AUSTRIA |
| PLC | B&R, AUSTRIA |
| Touch-screen | B&R, AUSTRIA |
| Hot melt glue machine | NORDSON, AMERICA |
| Transducer | Schneider, FRANCE |
| Contactor | Siemens, GERMANY |
| Intermediate relay | Schneider, FRANCE |
| Press adjusting device | Airtac, TAIWAN |
| Approach switch | LEUZE, GERMANY |
8. Air conveyor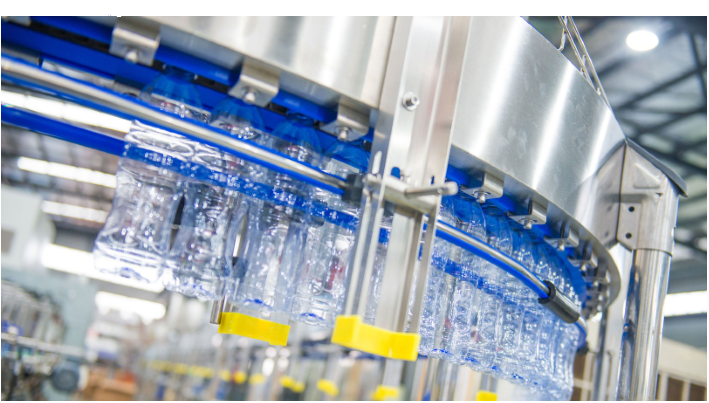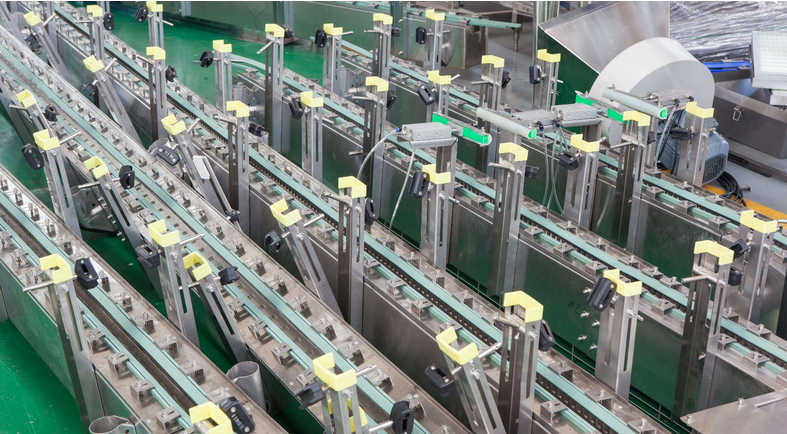 Description:
The air conveyor is installed on the supporting legs which are against the ground, and the fan is installed on the air conveying duct. The air inlet of each fan is equipped with an air filter to prevent dust from being blown into the container. The bottles are hung on the air conveyor by neck and transported to the rotary filler by air.
The automatic drop-off device is installed on the air conveyor, and the mechanism is driven by the cylinder. When the downstream machine has a temporary shutdown or deceleration operation, as the empty bottles on the air conveyor reach a certain amount, shut down the bottle-dropper to collect bottles from blowing machine manually, and put bottles back to the air conveyors afterward, this ensures that the blow molding machine does not have to turn off in this case.
There are multiple sets of photoelectric switches on the air conveyor. The photoelectric switch near the air crossroads is used to control the direction of the air blowing. The other photoelectric switches are used to control the automatic drop-off device, ensuring the smooth running of the entire air conveyor.
Main body is made of Stainless Steel 304.
The fan blowershave in-built air filters, avoiding secondary pollution.
The air inlet of the fan outside the sterile room is equipped with a primary air filter to prevent dust from getting into the room.
Technical parameters:
| | |
| --- | --- |
| Fan power: | 2.2 kW / 5m |
| Cross-section size of the air channel: | 180*180 mm |
| Height | 1300 mm |
| Thickness of the steel plate: | 2 mm(SUS304) |
| Capacity of blowing: | ≥3400 m³/h |
| Filter type: | Plate type |
| Filter material: | Galvanized steel plate for out frame, stainless steel for filter screen |
| Filter size: | 610*610*102 mm |
| Bottle size: | 200-3000 ml |
| Bottle diameter: | 50-120 mm |
| Climbing angle of air conveyor: | ≤15° |
| Initial resistance: | ≤55 Pa, (final resistance is 4-5 times stronger than initial resistance) |
9. Beltconveyor & Buffering system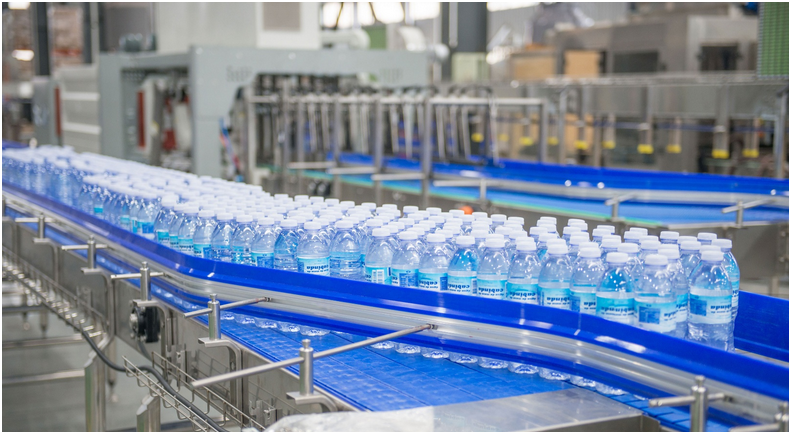 Description
The operation efficiency of the production line is mostly up to the configuration of the conveyor line. The configuration must take into account the short-term shutdown of the rear-end equipment (for example, replacement of labels, etc.), ensuring the shutdown doesn't affect the operation of the front-end equipment, and should be able to connect the front equipment and rear equipment well to make the whole the production line achieve high operation efficiency. Our production line's layout fully considers the relationship between customer investment and production line efficiency. Based on the world's advanced technology, the above requirements can be well achieved. The mechanical structure is a new design, most of the components are formed by stamping or bending, which has the advantages of good rigidity, light weight and good interchangeability. The transmission method features reliable operation and convenient maintenance, which is suitable for conveying bottles with diameters of Ø40-Ø110mm. The electric control system adopts PLC (On the Rinsing-filling-capping tri-block) to control the operation of the whole container conveying buffer system, and automatically conduct the functions of running speed acceleration and deceleration and automatic buffering.
Features:
The bottle belt is synchronously tracked with the host or the upstream and downstream equipment, which are connected to control system.
The bottle does not fall, does not jam, and does not block during the conveying process.
According to the user's needs, the buffer platform can be set in front of the labeling machine (the buffering time is usually about 1-2 minutes).
When replenish PE label, the filling process proceeds, the filled bottles are stored on the buffer platform. After finishing replenishing PE label, the labeler starts labeling, the line gets back to synchronizing production.
After replenishing, the labeling machine produces at a higher speed to fill the platform with labeled bottles again, and then resumes the synchronous production speed.
The conveyor belt structure is modular design, the parts are interchangeable, compact, low noise, easy to install and maintain, and can be combined according to different capabilities and bottle types, which has great flexibility.
Electric control design is advanced and reasonable, and the control method can be designed according to the customer's requirements, and the required electrical control components can be selected to further improve the smoothness of transportation.
The control switch position is reasonably set according to the layout of the conveying system or the customer's demand, which is convenient for the user to operate.
Technical parameters:
| | |
| --- | --- |
| Motor power: | 0.37 kW / 6m |
| Width of the conveyor: | 110 mm |
| Height: | 1050 mm |
| Thickness of the steel plate: | 2 mm(SUS304) |
| Bottle volume: | 200-3000 ml |
| Bottle Diameter: | 50-100 mm |