Description
PRODUCT: Edible Oil
[smartslider3 slider=92]
BOTTLE INFO: 375ml,750ml, 1000ml PET round bottle
CAP INFO: Plastic snap on cap
FLOWABILITY: Free Flowing
MATERIAL CHARACTERISTICS: –
BULK DENSITY: –
MOISTURE CONTENT: –
PRODUCT TEMPERATURE AT BOTTLING: ambient
STANDARD CAPACITY: 10000BPH – 375ml / 7000BPH 750ml / 6500BPH
REQUESTED CAPACITY: –
ACCURACY OF FILLING: –
LABEL: OPP wet glue
CONTACT PARTS: Stainless steel 304
BOTTLE DIMENSIONS: –

Content
PRICING
FEATURES & SPECIFICATIONS
COMMERCIAL TERMS
PRICING
Machine model
BOTTLES UNSCRAMBLER
Model: IND-RC 11
Equipped for one cylindrical PET bottle size
BOTTLES ELEVATOR
Model: IND-Trans 74
Format parts for additional cylindrical PET bottle size with same neck
AIR CONVEYOR
Model: IND-Trans 71 Aero
MONOBLOC FOR WEIGHT FILLING AND CAPPING
Model: IND-Dose 49 RWTC 15/6 Pragmatic®
Equipped for one cylindrical PET bottle size and its plastic press-on cap
Rejection device
Caps elevator
Format parts for one additional cylindrical PET bottle size with same neck and cap
ROTARY LABELING MACHINE – ROLLFED POLYPROPYLENE LABELS WITH HOTMELT GLUE
Model: GM 360
Equipped for one cylindrical bottle size
Format parts for additional cylindrical bottle size
INK-JET PRINTER
Model: Videojet 1220
FLAT-TOP CHAIN CONVEYOR SYSTEM
Model: IND-Trans 71
1. BOTTLES UNSCRAMBLER Model: IND-RC 11
The machine is designed for loading of the empty cylindrical PET bottles on the technological line. Inside the machine the bottles fall into a rotor with orientating pockets. After a bottle is caught in a pocket it is orientated and fed to the outlet vacuum conveyor in upward position.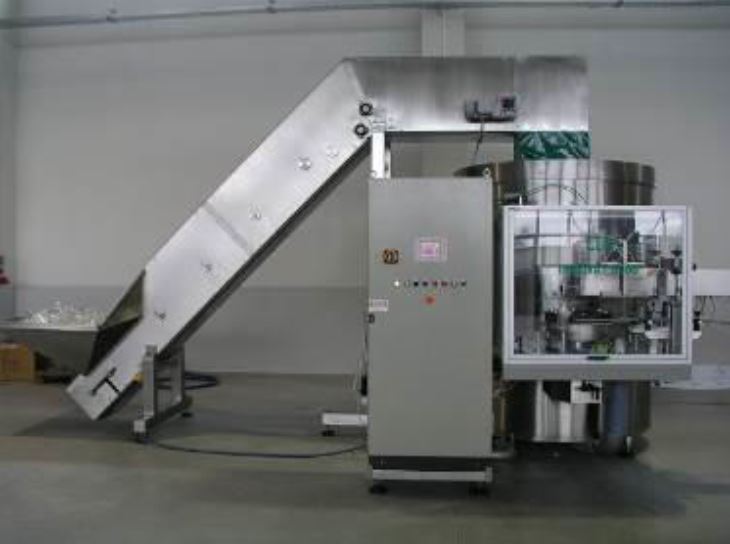 Output                                                                      bph                                      max. 800
Electrical supply                                                      V/Hz                                     380/50
Installed power                                                       kW                                        7
Consumption of compressed air
(5-6 bar)                                                                   Nm³/hr                                30 – 35
1.1. BOTTLES ELEVATOR
Model: IND-Trans 74
For regular supply of the empty bottles into the unscrambler
2. AIR CONVEYOR
Model: IND-Trans 71 Aero
Designed for transportation of empty PET bottles. Stainless steel contruction with adjustable height according to bottles dimensions. Air filtration class: G4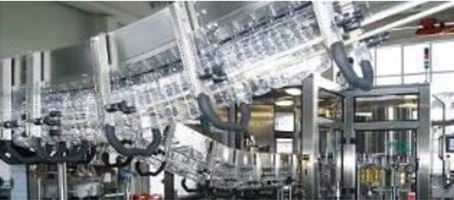 3. MONOBLOC FOR WEIGHT FILLING AND CAPPING Model: IND-Dose 49 RWTC 15/6 Pragmatic®
The monobloc is designed for filling of edible oil in PET bottles and closing with plastic press-on caps. The machine uses most advanced technology for measuring of exact weight when filling. The filling is done through a special valve, creating soft laminar product flow which results in high speed of filling with very precise flow control.
.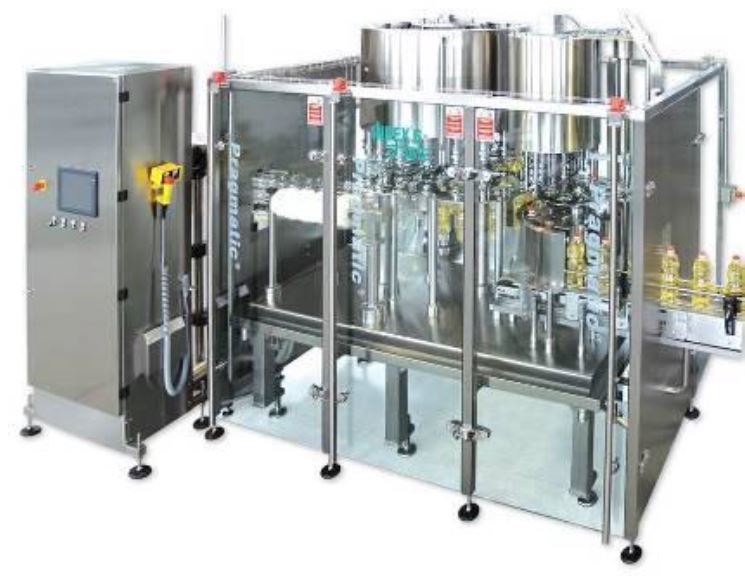 Bottles material:                                                    PET
Bottles shape:                                                        cylindrial
Caps:                                                                        plastic press-on type, one size
Capacity:
– as of 0.375L                                                          bph                                      max. 7 600
Range of dosing                                                     g                                           200 – 2 000
Filling method                                                                                                     by weight
Precision of dosing                                                g                                          ± 1.5
Cap diameter                                                          mm                                     by sample
Diameter of the bottle                                          mm                                     up to 130
Supply                                                                      V/Hz                                    380/50
Installed power                                                       kW                                      6
NB: The filling capacity depends on the availability of enough space between the product filling level and the top of the bottle throat (min. 30 mm)
Bottles are handled by the neck which significantly reduces the need of tools or changeable format parts for different bottles sizes.
Composition of the monobloc:
Rotary filling section. The product is filled by 15 electronically controlled filling valves ensure laminar gravitational product flow without contact between the valve and the bottle throat. The precision of dosing is controlled by latest generation of weight sensors. The usage of weight sensors (load cells) with integrated microprocessor control guarantees high precision in wide range of dosing and reliability of the process.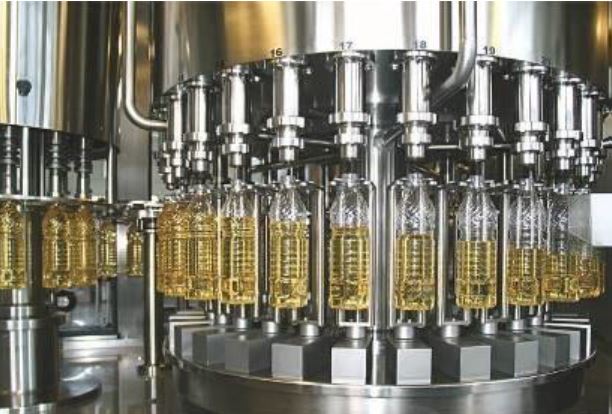 Capping section – consists of stainless steel turret with Pick-and-Place system and 6 capping heads for plastic press-on caps.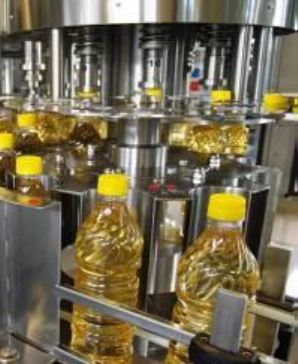 The re-adjustment of the monobloc for different products and volumes needs minimum time and is done on the basis of memory functions and choosing of preliminary set parameters.
Standard features:
• Stainless steel structure, self-supporting stainless steel frame in AISI 304; all parts with contact with the product manufactured in stainless steel AISI 304
• "No bottle – no filling" function
• "No bottle – no capping" function
• Touch screen controls
• Stainless steel electrical cabinet
• Freestanding guards with self-supporting structure consisting of stainless steel frame with openable doors providing convenient access to the machines inside
• All necessary safety devices (mechanical clutches, electrical switches, safety bars).
Advantages:
• No leakage of the product;
• High precision of dosing;
• No contact between bottles and filling nozzles.
As an option the monobloc can be equipped with a rejection device which checks the weight of the bottles throughout the whole filling process and separates the bottles not corresponding in weight or without caps on a separate conveyor.
4. ROTARY LABELING MACHINE – ROLLFED POLYPROPYLENE LABELS WITH HOTMELT GLUE Model: GM 360
This is an automatic rotary labelling machine with 12 bottles plates equipped with roll fed labelling station for the application of 1 wraparound body label in plastic material (OPP, PET etc.) on cylindrical containers.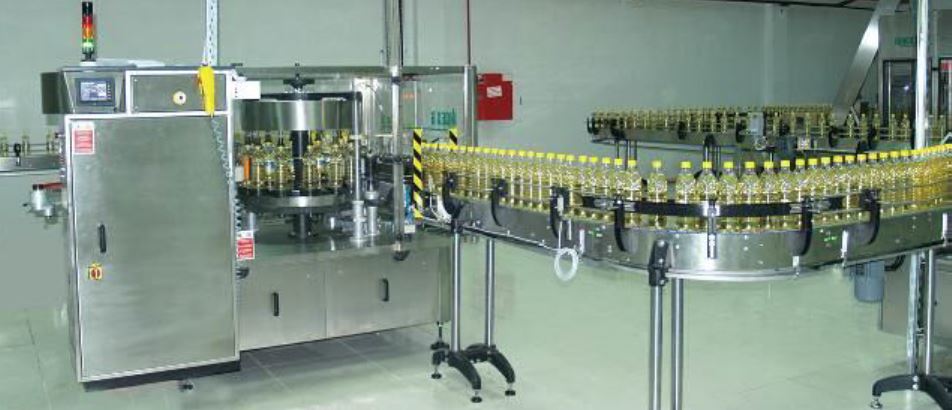 Output                                                                      bph                                      max. 8 000
Container diameter                                                mm                                      55 ÷ 110
Container height                                                     mm                                      150 ÷ 360
Label lenght                                                             mm                                      185 ÷ 390
Label height                                                             mm                                      50 ÷ 110
Overall dimension, LxBxH                                     mm                                      2 900 x 2 200 x 1 800
Weight                                                                      kg                                         1 800
COMPOSITION:
• Support frame made of welded strong iron steel profiles, the top surface is a heavy-machined carbon steel plate, covered with AISI 304 stainless steel metal sheet. Inspection is possible through side doors and frame side skirting clad with AISI 304 stainless steel plate.
• Main carousel with self-centering type container platforms covered by anti-slippage material. Platforms rotation is transmitted by toothed belt and pulleys.
• Safety guards are made of AISI 304 stainless steel with transparent material windows.
• Rolled labeling station. The standard labeling aggregate is equipped with one reel stand support, complete with a film tension control device. The film feeding roller is driven by an independent brushless motor which corrects the feeding speed in accordance with the actual position (detected by a sensor) of the labels pitch (spot or other reference) and with the machine speed via encoder. The label is cut on a drum provided with rotary blade, which interferes with the static blade. The fine regulation of the tuning of the two blades, necessary to have a correct cutting and a long life of blades, is very easy.
• Machine drive. The machine is equipped with linear gear system transmission and with gear wheels made of C40 steel and Polyamide, in order to improve precision and reduce noise.
5. INK-JET PRINTER Model: Videojet 1220
Designated for addition of production data (production date, best before date, etc.) on the containers.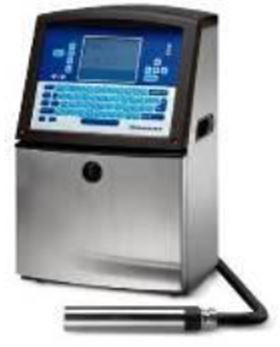 Number of rows                                                      pcs                                       3
Height of print                                                         mm                                      2 – 8
6. FLAT-TOP CHAIN CONVEYOR SYSTEM – Model: IND-Trans 71
System of conveyors, designed for transportation of the bottles through the bottling line. Manufactured in stainless steel AISI 304.
Element base:
• gearmotors – Lenze;
• frequency regulation – Omron/Lenze;
• sensors – IFM;
• plate chain and elements – Movex.
7. CARTONING SYSTEM
Max. Capacity: 720 cartons/hour
7.1. Cardboard boxes erector
Model: F 144
Fully automatic case erecting machine which shapes American type cartons and seals bottom flaps with adhesive tape.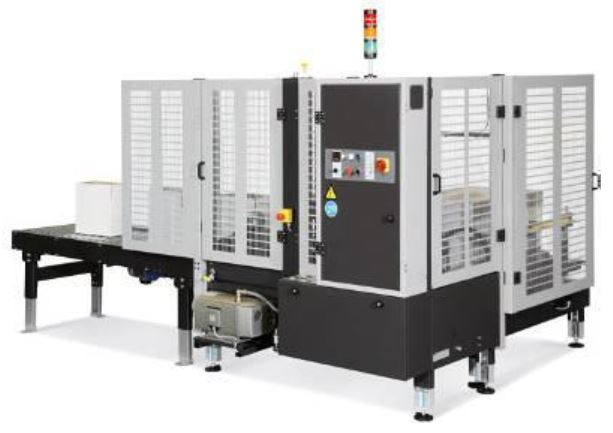 The machine works the carton in horizontal way so that it is easily and naturally opened. This solution allows a high speed capacity. 2 x Carriages moved electrical axes with vents to pick the plain boxes from box storage, square them and push them in the motorized driving belts (2 x Motors HP 0.18 each) while folding the bottom flaps. Machine controlled by PLC Omron to synchronize the different machine movements ansd eventually harmonize other machines to be connected (box filler – conveyer line).
Capacity                                                                   carton/min                          max 12
Minimal box dimensions (LxBxH)                        mm                                      200x150x150
Maximal box dimensions (LxBxH)                       mm                                      450x350x400
Tape width                                                               mm                                      max 50
Power supply                                                           V/Hz                                     380/50
Installed power                                                       kW                                        2
7.2. Machine for arranging the bottles in boxes / Model: IND-Pack 24 W2
Fully-automatic packing machine which packs cylindrical bottles into American type cartons. The machine secures high performance while processing cartons of various formats. The packing unit sets the bottles coming from the line onto the storage table, the picking head inserts them into 2 cartons simultaneously.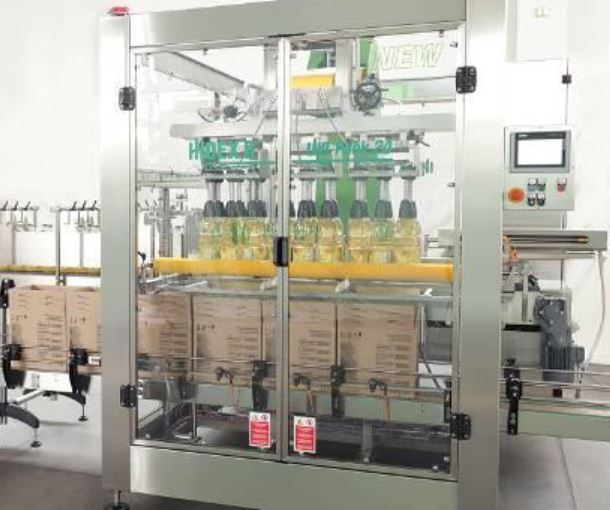 Capacity                                                                    carton/min                          max 12
Max. carton dimensions                                        mm                                       450x350x400
Electrial supply                                                        V/Hz                                      380/50
Installed power                                                       kW                                         5
Compressed air 6 bar                                            Nm³/h                                   10
NB: The maximal capacity can vary depending on several container, collation and box properties.
Main features:
• Sturdy frame structure.
• Interchangeable gripping heads designed according to the product to be handled
• Product infeed table with independent motorization, 4.000 mm length and AISI 304 SS frame
• Motorized case infeed conveyor 2.000 mm length and AISI 304 SS frame, composed with low friction slat chain conveyor. It is complete with case detection photocell and case stopping device. All devices are easy adjustable for a quick change over.
• PLC control of the machine
• Machine provided with digital HMI for the setting of production parameters, variables and alarm display integrated into machine structure.
• CE standard machine construction
7.3. Closing machine for cardboard boxes (carton sealer) Model: SM 11
Automatic case sealing machine to close the top flaps of American type carton and seal the top flaps with adhesive tape.
The machine is equipped with a carton transferring system by side motorized driving belts (2 x 75 mm wide each). Manual adjustment on the different carton sizes (Width – Height – Length)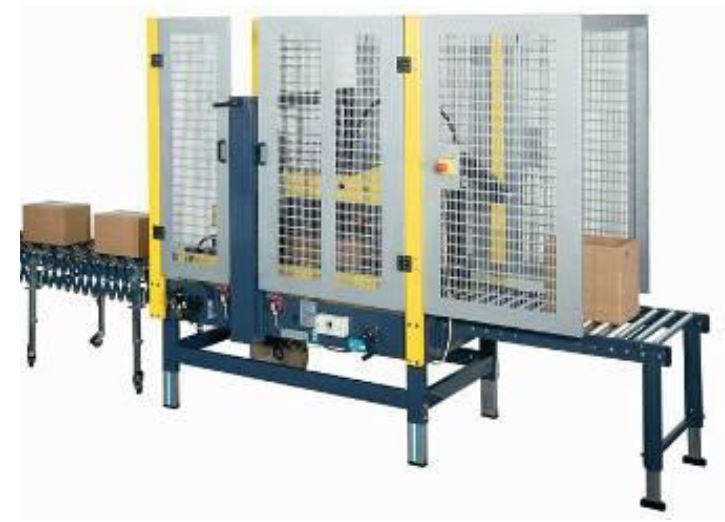 Capacity                                                                   carton/min                           max 12
Minimal box dimensions (LxBxH)                        mm                                       200x150x150
Maximal box dimensions (LxBxH)                       mm                                       450x350x400
Power supply                                                           V/Hz                                      380/50
Installed power                                                       kW                                         0.3
Overall dimension, LxBxH                                     mm                                       1 520 x 1 100 x 2 000
Weight                                                                      kg                                          400