Description
Index:
Quote 3: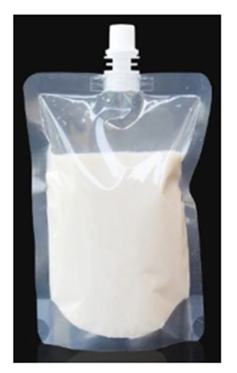 OPERATION PARAMETER
Product: Sauces
Target volume: 250ml to 1000ml
Packing speed: 250ml x 3000 BPH / 1000ml x 1500 BPH
Bag sizes: 250ml, up to 1000ml
Bag: Doy bag with center nozzle
DESCRIPTION
Water treatment RO system
CIP system
Boiler
Mixing & Heated tanks
Pumps
SS Piping
Filling machine
Carton taping machine
Operating principle
Water Prepare System
Raw water will enter the raw water holding tank.
The water will then get pumped with a multistage pump through the pre-filtration
The second multistage pump will then pump the water through the RO System into the prepared water holding tank
The prepared water tank will have a circulating pump through a venturi that will inject ozone into the water
The tank will also be fitted with a breathing filter system
Powder and Ingredient Mixing
The system will be equipped with two product preparation tanks and two rotor pumps
The prepared water will enter the tank via a flow meter and the water volume can be set on the control panel
The operator will start the tank heating system on the control panel
The tank will be filled to the required level and a light will appear on the control panel when on required level
The operator will now start the mixer on control panel
The ingredients will be added to the tank as per recipe
The tank now will be topped up with prepared water to the require batch size (if needed)
Time of mixing will be logged on a log sheet
The operator will then start the circulating and shear system
The operator will also log this on the log sheet
When at the end of the shear cycle, the operator will stop the preparation
The product is then ready to be transferred to the filling machine
Filling and Packing
The product will enter the filling machine hopper via the rotor pump
This hopper does have a level probe and will control the feeding pump
The cap hopper must be filled to level and the operator must fill it frequently
The pouch magazine mast be filled with pouches and operator must keep this full
As soon as the product is transferred the operator can start the filling machine
The filler will now automatically fill and cap each pouch and dispense trough a shoot
The pouches will now be packed into cartons and closed with a case sealer
The boxes will then be packed on pallets and wrapped
Ready for shipping
CIP Tanks and Pumps (Clean in Process)
The system is equipped with a hot water CIP system
The steam generator will heat up the CIP tank to the require temperature
The swing panel between the two product tanks will have a connecting point to the CIP water line
When a CIP is required the operator will connect the required tank to the CIP line
The operator will start the pump and the tank will be cleaned via a spray ball system
The operator needs to start the rotating and circulating equipment as well
After CIP cycle this will then be emptied to drain
The rotor pump that needs to be cleaned will now be hooked up to the CIP pipe via the swing panel
The hot water will then get pumped through the rotor pump to drain
Ready for next batch
CIP Filling Machine (Clean in Process)
After production for the day the filler needs to be cleaned
The rotor pump will be connected to the CIP line on the swing panel between the two product tanks
The operator will start the transfer pump
The filler will be put on CIP
The filler will now automatically clean the area where the product was hold and transferred
The filler operator and other needs to clean the other equipment in and around the filling machine (as per training)
2000LPH Reverse Osmosis Water Treatment System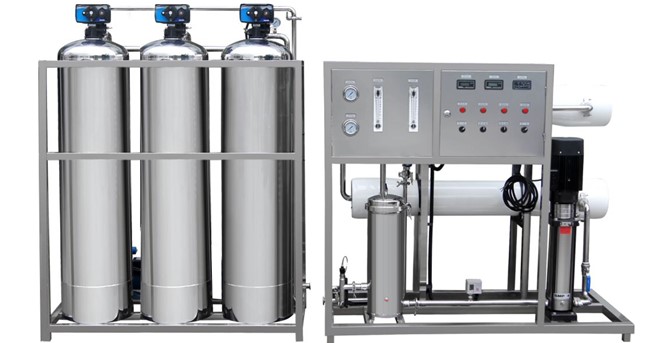 1) Pretreatment:
1 – To prevent the colloidal substances and suspended solid particulate fouling;
2 – To prevent fouling of the organic matter;
3 – To prevent microbial contamination;
4 – To prevent oxidizing substances on the oxidative damage of membrane;
2) RO System:
Polyamide composite membranes with three layers of film composition, surface for aromatic polyamide material supported by a microporous polysulfone layer. Endure high pressure and tension of mechanical and chemical erosion.  NaCI, CaCl2, MgCI2 has the removal rate of 99%. Specifically for pressure membrane shells volume type glass steel tube shell membrane.
3) Dosing System: 603 dosing pump
4) PLC controller: Fully automatic, with water quality monitoring screen
5) Accessory system: Equipped with SS304 pipeline, flowmeter and pressure gage.
6) Design:
1.1 Application: Drinking Water
1.2 Output Pure Water: 2m3/h (25℃)
1.3 Raw Water: Conductivity≦400µs/cm
1.4 Output Pure Water Quality: Desalination Rate: ≧97-98%
1.5 Operation: Manual on-off; Automatic
1.6 Requirements for the system: a. Water in pipeline supplied to water station with temperature 10-35℃; b. Voltage supplied to Water Station: 380V, 15KW.
Item
Specification
Quantity
Material
1.Pretreatment System
 

1.1 Raw Water Pump

 

Horizontal multiple-stage centrifugal pump

Flow:3m3/h

Pumping Head:35m

Power:1.5kw(3*380-415V, 50Hz)

1SET

SS304

 

 

 

1.2 Sand Filter

Specification: Ø500*H1500

Working Pressure:0.5MPa

Filter Material: Quart Sand

Connect Pipeline Diameter:DN40

1SET

SUS304

 

1.3 Activated Carbon Filter

Specification: Ø500*H1500

Working Pressure:0.5MPa

Filter Material: Activated Carbon

Connect Pipeline Diameter:DN40

1SET

SUS304

 

 

1.4Water Softener

Specification: Ø500*H1500

Working Pressure:0.5MPa

Filter Material: Connect Pipeline Diameter:DN40

1SET

SUS304

 

1.5 Precision Filter

Filter Cartridge : pp 40inch * 5pcs – Pressure gauge, connecting pipe

1SET

SS304

 

1.6 Dosing System

Dosing pump

Dosing Tank

1SET

 

2.1 High-pressure Pump

Vertical multiple-stage centrifugal pump

Flow:3m3/h

Pumping Head:116m

Power:3kw (3*380-415V,50Hz)

1SET

SS304

 

2.2 Ro Membrane

RE8040BE

Desalination:97%

2pcs

 

2.3 Ro membrane vessel

8″ * 2

5pcs

FRP

 

2.4 Electronic Cabinet and units

Flow Meter
2pcs
Pressure Gauge
3pcs
Pressure Protector
 1pc
Conductivity Meter
           2sets
Programming Controller
 1pc
Circuit Switch
5sets
Connection pipeline DN40
1set
2.5 Flushing device
6 seconds flushing to the membrane
1set
CIP cleaning system (touch screen)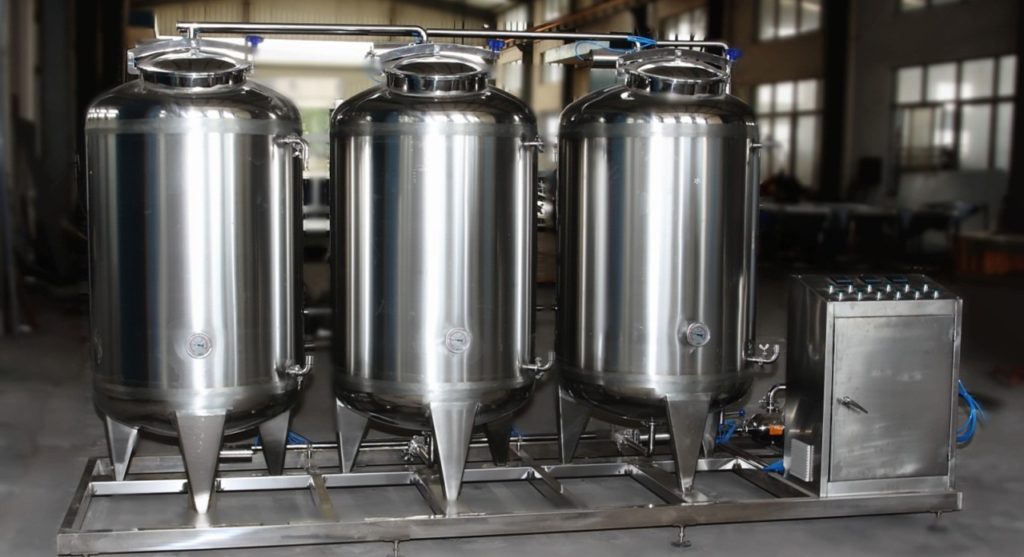 Description:
CIP cleaning system is locally known as in situ cleaning system, referring to CIP, also known as cleaning position or positional cleaning (cleaning in place). Cleaning in place means not open or move device, which is, using cleaning fluid which is high temperature and high concentration to impose force on device equipment, thus cleaning the contacting surfaces. It is suitable for cleaning and purity of production device which is high demand to sanitary level.
Technical parameters
Working pressure: normal pressure in tank, 0.3-0.7 in steam pipe
Working temperature: 60-138℃ in acid and alkaline tank, water pipe steam pipe
Material name: 2% acid and alkaline liquid tank, 2% nitric acid, caustic soda liquid, steam
Maximal centrifugal pressure head: 35M
Motor power: 2.2KW
Overall size: 3000x1400x2000 MM
Steam Boiler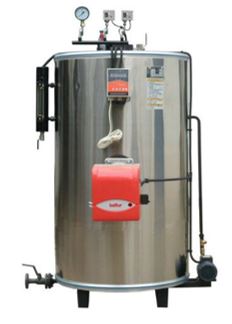 | | | |
| --- | --- | --- |
| Project | Unit | Specification |
| Steam Capacity | Kg/hr | 300 |
| Rated working pressure | MPa | 0.7 |
| Hydraulic testing pressure | MPa | 1.05 |
| Oil consumption | Kg/h | 21 |
| Thermal Efficiency | / | 92% |
| Water Pump Power | KW | 1.1 |
| Power Supply | / | three-phase/380V/50Hz |
| Rated Thermal Power | KW | 105 |
| Saturated steam temperature | °C | 170 |
| Main steam valve diameter | DN | 32 |
| Safety valve diameter | DN | 25 |
| Infall diameter | DN | 25 |
| Sewage valve diameter | DN | 25 |
| Overall dimension(L*W*H) | mm | 1270*1570*2400 |
| Weight | kg | 850 |
Mixing & Heating – 3000L Tanks x 2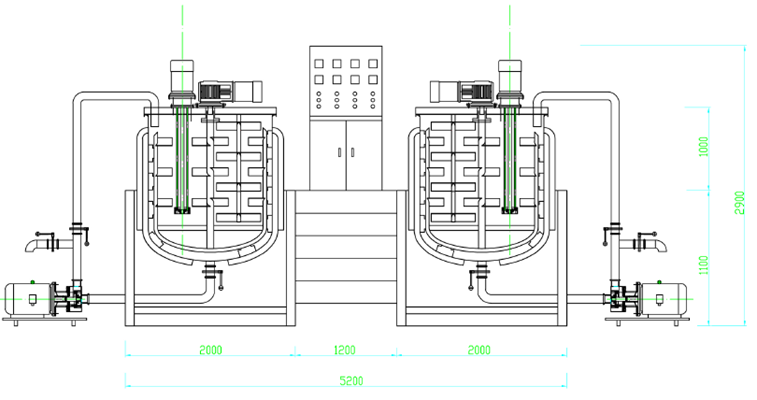 Top mixing and top homogenizer, including emulsifier pump connected to the bottom as per following picture

No.
Item
Configuration
Remark
1.       
Top Mixing
Scraper agitator Fixed diversion paddle  7.5KW, 0-65r/min,
Frequency conversion to change the speed

Material :SUS316L

2.       
Top homogenizing
High shear 0-3000 rad/min,11 KW
Mitsubishi inverter

Material :SUS316L

3.       
Working pressure
Normal pressure
 
4.       
Outlet
Stainless steel butterfly valve
 
5.       
Cover
Cover can be open and close
 
6.       
Temperature sensor
Pt100 thermometer
 
7.       
Pressure meter
non
 
8.       
Jacket temperature
≦100℃
 
Working capacity
3000L
 
Design capacity
3500L
 
9.       
Inside material &thickness
SUS316L      10mm
The total thickness of the jacket:50mm
Mid & Thickness
SUS304       6mm
Outside &thickness
SUS304       3mm
10.    
polishing
300MESH(sanitary level)
 
11.    
Scaffold and platform
Stainless steel frame
4mm
12.    
Electric Box With Controller Panel
SUS304-2B
 
13.    
Sealing form of homogenizer
mechanical seal
 
14.    
electrical equipment
instrument indication
Schneider french brand OMRON Japan brand
15.    
Pot body stents
Stainless steel
 
16.    
  welding form
Automatic welding, no dead ends
 
Filler Capper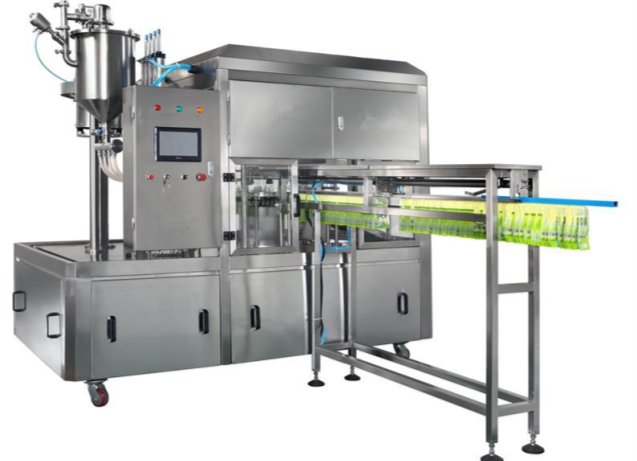 Automatic Rotary Filling And Capping Machine
Model: AP6-4
Customer bag: premade bag with filling nozzle on the middle
Machine with 4sets of rotor pump as filling system with servo motor controlled filling volume.
Filing volume and speed request:
1. 250ml 50bags per min. = 3000 bags per hours
2. 1000ml 25bags per min = 1500 bags per hours
Machine working process:
Automatic bag feeding—(option: ink jet printer) –automatic bag detect (no bag no filling) —automatic filling (fill N2, with CIP automatic cleaning system and pipes) –Automatic cap sorter (with one vibration cap feeder and one channel) —automatic cap suck system –cap detecting —automatic capping (4sets with servo motor controlled the torque force) –automatic bag feed out
Features:
Filling system: rotor pump with pneumatic valve control the filling volume. Nozzle uses V type construction to ensure the cap not damaged. No bag no filling function.
Bag feeding system: use the balance force controlled system, adjust the push of bag feeding.
Ink jet printer: This is the option. (not standard )
Automatic bag detect: use the fibre sensor detect the bag, it can be worked for difference bag colour, difference material. and the sensor have cleaning function by time.(to ensure no error detect)
Automatic cap sorter: uses vibration feeder and cap sucked with cap detect system, no cap will stop the machine.
Capping system: servo motor controlled. The torque can be adjusted on the touch screen, easy adjusting.
CIP cleaning system: Use one button start controlled method, the cleaning time can be setting by the operator. After finished it still have sound and light to let you know .it can be cleaning the pipes inside and pump and filling valve.
316 stainless steel with double wall and full sealed tank. Agitator option in header tank (this is an option)
Machine housing #304 stainless steel
All products contact parts #316 stainless steel.
Machine with Siemens PLC and Touch Screen controlled system.
Motor SEW, Inverter Danfoss, motor for capping Schneider Servo motor.
Machine power: 380V 3PH 3KW
Compress air requirement: 0.4m3
Carton Taping Machine, Top Bottom

Features:
| | |
| --- | --- |
| 1 | 2 side belts |
| 3 | Automatically adjust height and width |
| 4 | Heavy duty frame |
| 5 | Adjustable tape ends length from 30-60mm |
| 6 | Tape roller length: 500 yd |
Technical data
| | |
| --- | --- |
| Power supply | 220V 50HZ/60HZ 1phase |
| Tape head | 2" or 3" |
| Belt width | 50mm |
| Sealing speed | 25M/minute |
| Min Box size | 120 x 200mm |
| Max Box size | 500 x 500mm |
| Air pressure | 7kg |
Options
| | |
| --- | --- |
| 1. | Infeed and outfeed conveyor |
| 2 | Wider belt to 70mm |
| 3. | Locking casters |
| 4. | Stainless steel roller |
| 5. | CE control box |
Specifications and Price Calculations
No
Item
1
2T RO water treatment
2
3T water storage tank (3MM SUS316L)
3
CIP cleaning system
4
3T designed mixing heating tanks (team ,ABB motor, Mitsubishi inverter)
18.5kw pipeline emulsifier(ABB motor, Mitsubishi inverter)
5
Boiler(45kw)
6
Rotor pump(ABB motor ,Mitsubishi inverter ,connect part:SUS316L)
7
DN51 Sanitary piping(SUS316L)
8
DN50 Seamless industrial pipe(SUS316L for heating water with heat preservation cotton )
9
Filling and Capping machine using premade bags
10
Top and bottom carton taping machine
11
Installation, pipe work, commissioning