Description
[smartslider3 slider=86]
CSD beverage bottling line 2500
S/N
Equipment name
Capacity
Qty
CIP (Clean in place)

1

CIP system

1×2 T

1 set

2

CIP recycling pump

10T/H

1 set

 
 
 
 
 
Filling and packaging system

3

Empty bottle air conveyor

/

2 m

4

14-12-5 rinsing filling & capping machine

2,000-2500 BPH

1 set

4.a

Carbonation system

1 set

4.b

Chilling unit

1 set

5

Filled bottle conveying belt

/

2 m

5.a

Automatic cap sorter and loading machine

/

1 set

6

conveying belt

/

15 meters

7

Light inspector

/

1 set

8

Self-adhesive labeling machine

0-100 BPM

1 set

9

Auto ink jet printer

/

1 set

10

shrink wrapper

8-14 Packages/min

1 set

11

Installation costs  for 6 days including accommodation

12

Pipework, and infrastructure, excluding equipment
Air Conveyor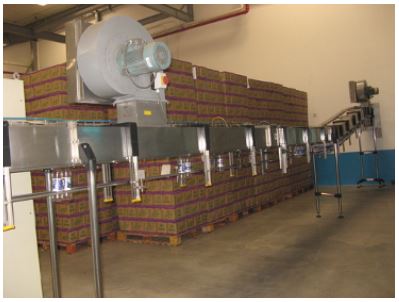 2.Rinsing, filling, and Capping machine
          Features
Compact structure completed control system, easy to operate
Air conveyor linked with the wheel of inlet bottle by straight replaces the inlet bottle screw and conveyor,
which can accommodate for different bottle shapes.
Precise, high-speed filling valve.
The capping head has a constant torque magnetic device to guarantee capping quality
High efficient cap arranging system, feeding, and protection device
Different star wheel needed for different size bottles

Bottleneck locking technology protects the bottle mouth pollution
Overload protective device to ensure operator and machine safety
control system functions included control producing speed, cap shortage detection, bottle block
automatic stop and production counting
Equipped with Bottle rinsing high efficient spraying valves

Technical Parameters
Model

14-12-5

Production capacity

2,000-2,500B/H(basis on 500ml bottle)

Filling precision

≤±5mm(liquid level)

Filling pressure

<0.4Mpa

Polyester bottle specification

bottle diameter:φ50-φ105mm

bottle height: 150-340mm

Suitable cap type

plastic screw cap

Water pressure of washing bottle

0.18-0.25Mpa

water consumption for washing bottle

700Kg/h

Spraying position

5

Dripping bottle position

2.5

Gas source pressure

0.7Mpa

Gas consumption

1m

3

/min

Total power

2.5Kw

Overall dimension

2100×1500×2750mm

Total weight

2500Kg
Origin of Main Parts:
3. Carbonation unit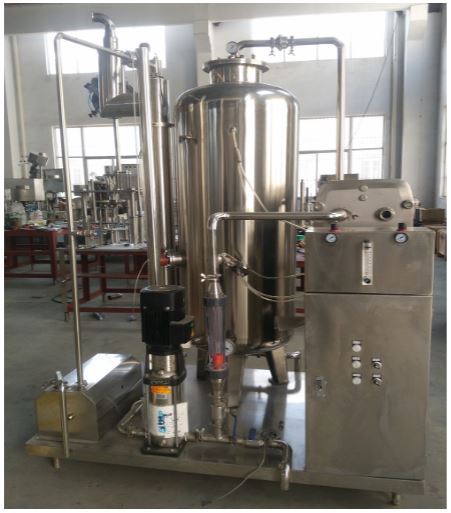 – Effective Carbonation of wine, juice, cider, water, beer and more! 

– Processing capacity up to 1500litres per hour, dependent upon product type

– Full stainless steel and food grade plastics manufacture

– Precise control over time variables, offering flexibility on carbonation levels 

– All inlet and outlet valves available in a range of sizes and fitting types
Carbonator
Our carbonators, suitable for the carbonation of a range of products including wine, juice, cider, water, and beer. With its 200-litre carbonation tank the Saturator is capable of carbonating up to 1500 litres of product per hour, depending upon the type of product and its temperature. This system requires the use of Air Operated Diaphragm pumps to transfer the product through the carbonator, which provides a gentle pumping action well suited to the carbonation process. This system works between the product storage tank and the bottle, can, or keg filler; carbonating the product immediately before it's filled. 
The Saturator system uses scales to measure the amount of liquid being passed through the carbonation chamber, with a digital timer to control the amount of time liquid spends in the chamber. This provides flexibility on levels of carbonation for the product, essentially controlling the amount of 'fizz' the product receives. This system requires a compressed air supply for the AODD pumps, a CO2 supply, product supply, and electrical connection. All inlet and outlet valves are available in a range of sizes and fitting types. 
Chilling unit
Description of goods
Chiller Model
Cooling Capacity
Air cooled water

chiller

AC-30AT
86.9KW
Food grade Stainless steel

plate type heat exchanger

80KW
Air cooled water chiller technical specifications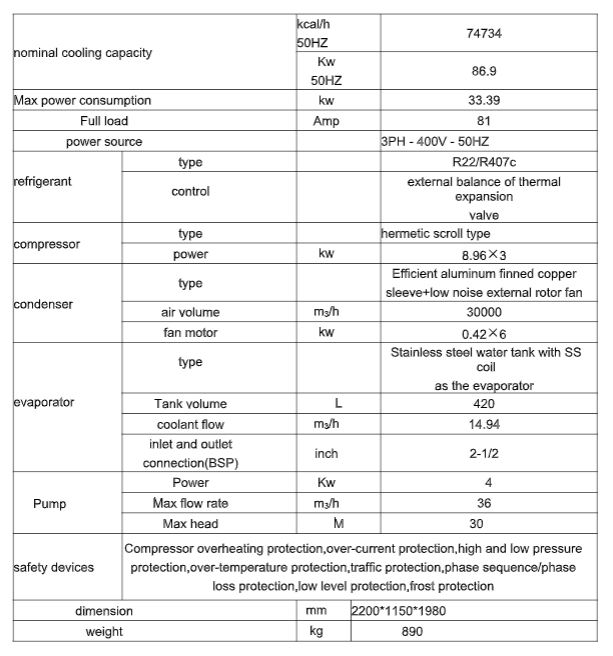 Parts List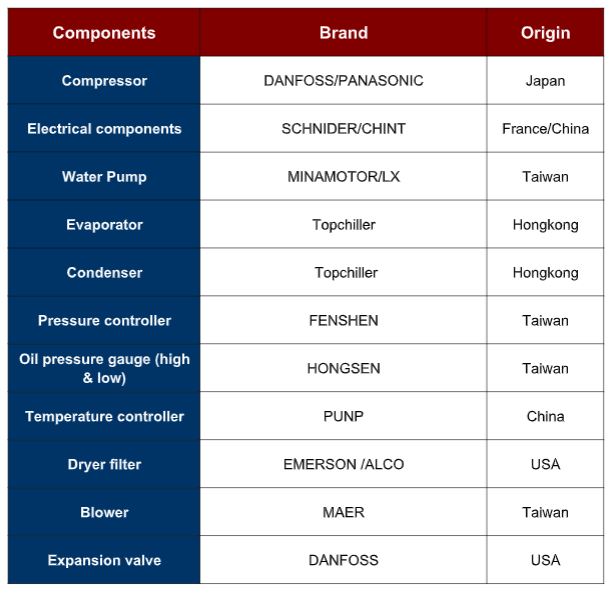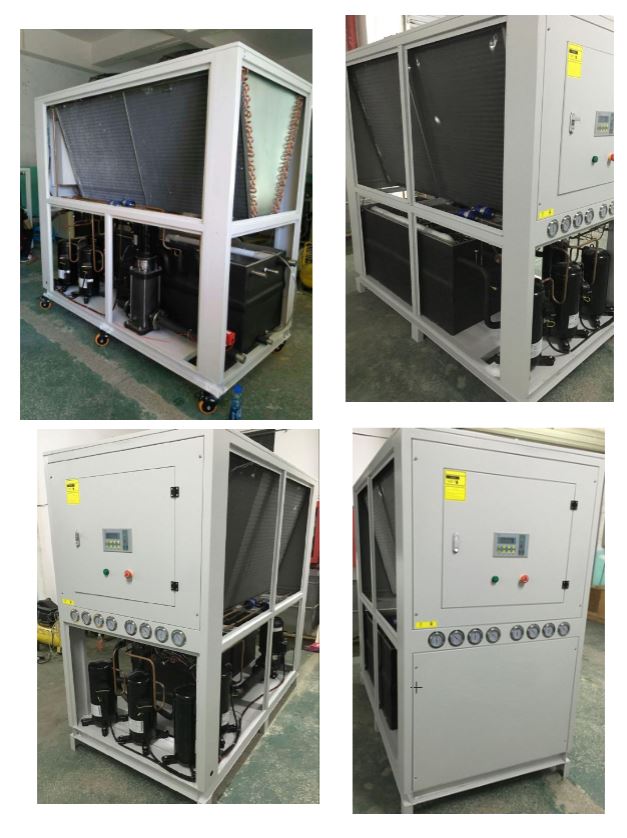 5. Self-Adhesive Labelling machine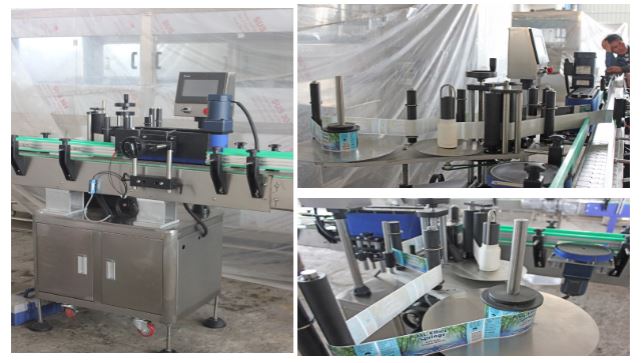 1)  Labelling speed: from 0 to 80 pieces per minute (according to the different target object and the length of the labels)
2) Label material: PE, PP, PVC
3) Outer diameter of bottles: 15 – 300mm, Bottle height: 20 – 150mm
4) Applicable range for the labels: Length range: 23 – 250 mm, Height range: 15 – 125mm
5) Motor power: 600W; Voltage: 220V 50 to 60HZ
6) Overall dimension:2000mm×850mm×1350mm  Weight:250Kg
6. Date BAtch coding machine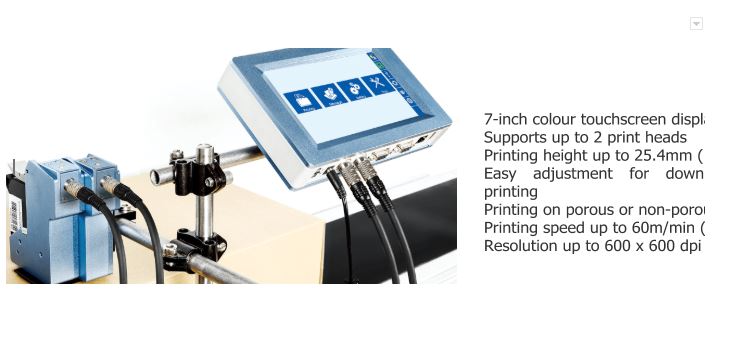 7. Shrink Wrapper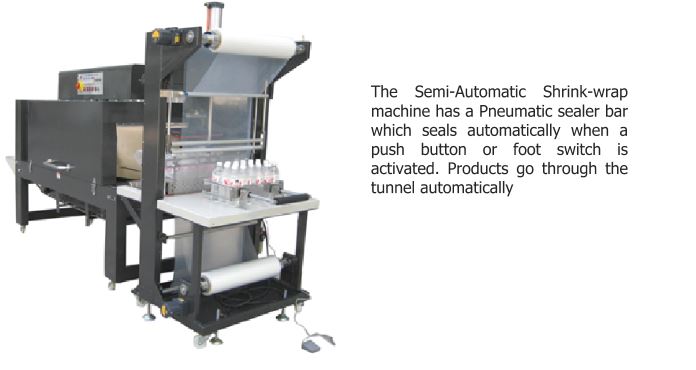 SPECIFICATIONS & TECHNICAL
Speed Capable of doing 8 – 10 packs per minute, depending on the operator
Power Supply 380V, 3 Phase + neutral & earth, 22Amps
Top & Bottom rollers for film feed

High heat modular conveyor belt

Zintex inner oven

Wheels (4pcs) – Fixed & Swivel

After cooling fan

Pneumatic Operated

Impulse sealer bar (model 500S & 650S)

Constant heat sealer bar (model 800S – 1200S)
Dimensions
Tunnel Length > 1150mm Oven Opening > 800mm (W) x 450mm (H)

Foot Print > 4.5m (L) x 1.2m (W)
Optional Extras
Complete Stainless Steel Electroplating Compressor

Extended out-feed rollers

Extended Oven

Constant heat sealer bar (Models 500S + 650S)