Description
Index:
DOY BAG FILLING MACHINE (SIDE VALVE)
Quote 1: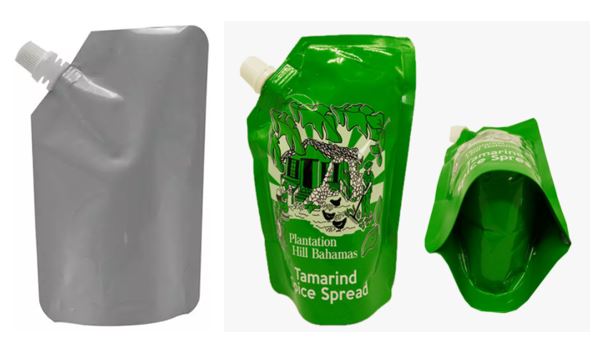 1.
Rotary filling and capping monoblock LP including:
Pre-maded pouches magazine
INCLUDED
Pneumatic bag opening units
INCLUDED
Starwheel designed for handling of pre-maded bags
INCLUDED
Nr. 4 filling nozzles with pneumatic closing
INCLUDED
Nr. 4 Lobe pumps
INCLUDED
Product hopper with capacity approx. 200 Lt and automatic level control
INCLUDED
Nr. 1 Capping unit consist of caps feeders, caps chutes, Pick and place units and closing heads for screw on caps
INCLUDED
Bags ejector
INCLUDED
Outlet conveyor
INCLUDED
Format parts for Nr.1 cap format
INCLUDED
Changing parts for other formats (not included in machine price)
Format parts for different size of spout
Format parts for different size of cap
Other possible accessories (not included in machine price)
| | |
| --- | --- |
| 1. | Filling and capping monoblock model |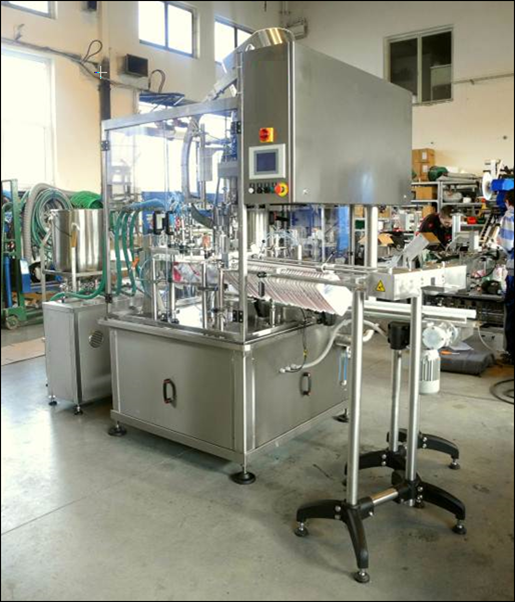 Filling and capping monoblock suitable for automatic filling of stand up pouches. Machine is equipped by pouches magazine enabling automatic feeding of  pouches to the starwheel. Filling is done by means of Nr. 4 gear pumps,. Machine has automatic closing unit for screw caps. After filling and capping are bags rejected to the outfeed conveyor.
Feeding station

The operator will place the bags into the feeding station with the holding system, which keeps the stock of empty bags and drive them to terminal position, where they are pressed into the starwheel. The feeding conveyor is equipped with 2 pushers, which guarantee continuous pressure on the row of the bags even during bags feeding.

 

Filling unit:

Filling unit consists from 4 filling station. In each station part of the pre-set volume is filled. The nozzle enters into the pouch neck, when the filling is finished, the nozzles are lifted up and pouch is transferred to next filling station. The system is equipped with "no pouch no filling" and "anticollission" control for to control, that the nozzles properly enter the neck of pouches.

Filling unit consist of:

– 4 pcs of Gear pump

– 4 pcs of stainless steel closed nozzles with pneumatically driven up and down movement

– Stainless steel product container with automatic infeed valve and level control

– PLC with touch screen which controls speed and volume of filling

 

Lobe pump – suitable for filling of product containing pieces

 

Capping unit

The operator puts the caps into cap bunker. Caps ate automatically feeded by cap conveyor to the cap orientator. Oriented caps are transferred by caps chute to the  pick and place device. This device put the cap to the capping head and the head screw the cap on the neck.

Capping unit consits of:

– Caps bunker with elevator

– Caps orientator

– Caps chute

– Pick and place device

– Screwing head

 

Pouches ejector and collecting conveyor

When the capping is finished, the full and closed pouches are released from the holder in the starwheel by pneumatic piston and they slide to the exit conveyor, from which they are taken by operator.

 
Quote 2: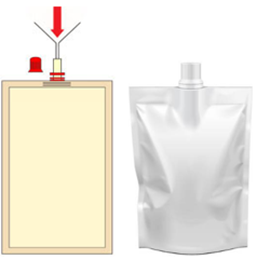 OPERATION PARAMETER
Product: Sauce
Target weight: 750g
Packing speed: Up to 1500BPH
Bag size:  W150mm x H240mm x D80mm
Bag shape: Doy Rectangle
Cap: Plastic screw cap 10mm
MACHINE DESCRIPTION
FILLING AND CAPPING MACHINE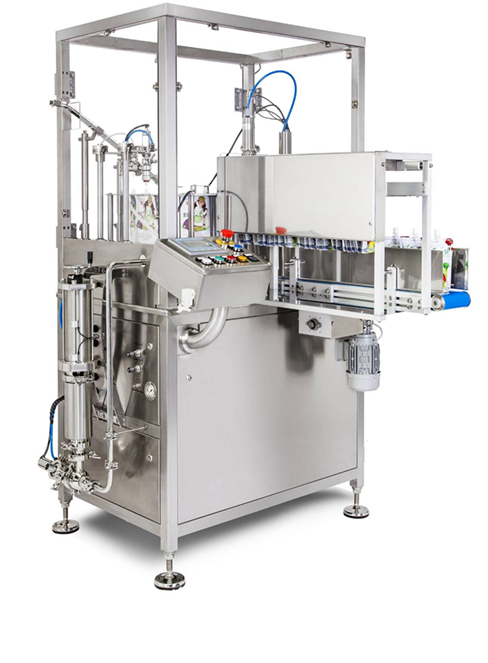 PNEUMATIC HEAD, FILLING HEAD, CAPPING HEAD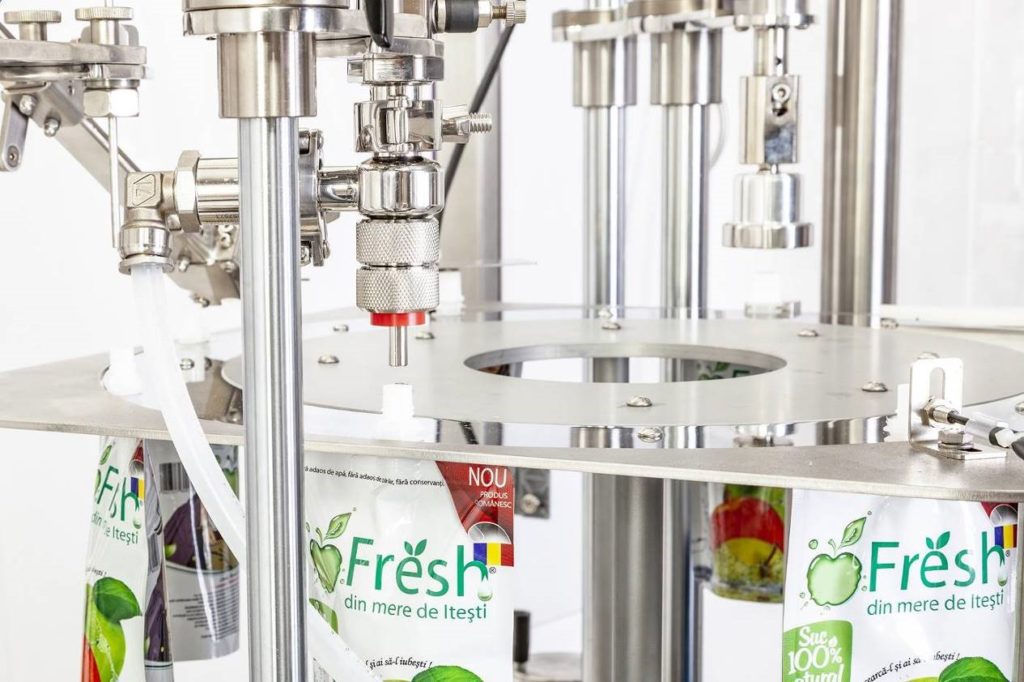 The machine is suitable for flexible pouches (with an already existing spout) with liquid / semiliquid products by mean of a Doselite® volumetric piston filler with a 50-1300 ml dosing range and closing the same with 1 size of plastic screw cap. All the parts in contact with the product are manufactured with AISI 316 L stainless steel and PTFE and FKM gaskets. The filling and capping stations stand in a 600 x 600 mm cabin with front and back access doors. The machine features an automatic vibrating base cap sorter and feeder. The cap tightening is performed by a pneumatic motor or by a hysteresis magnetic clutch, depending on the requirements.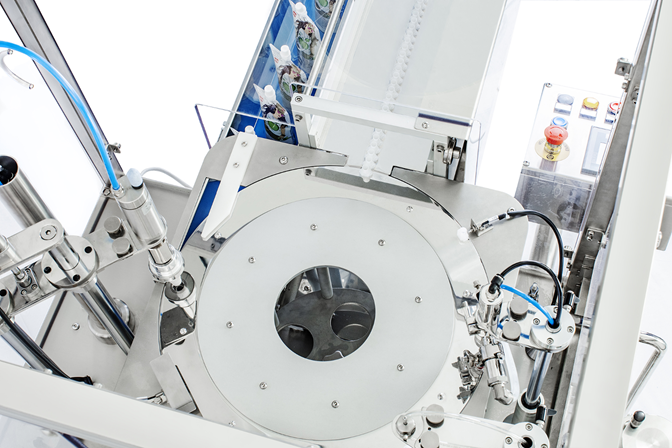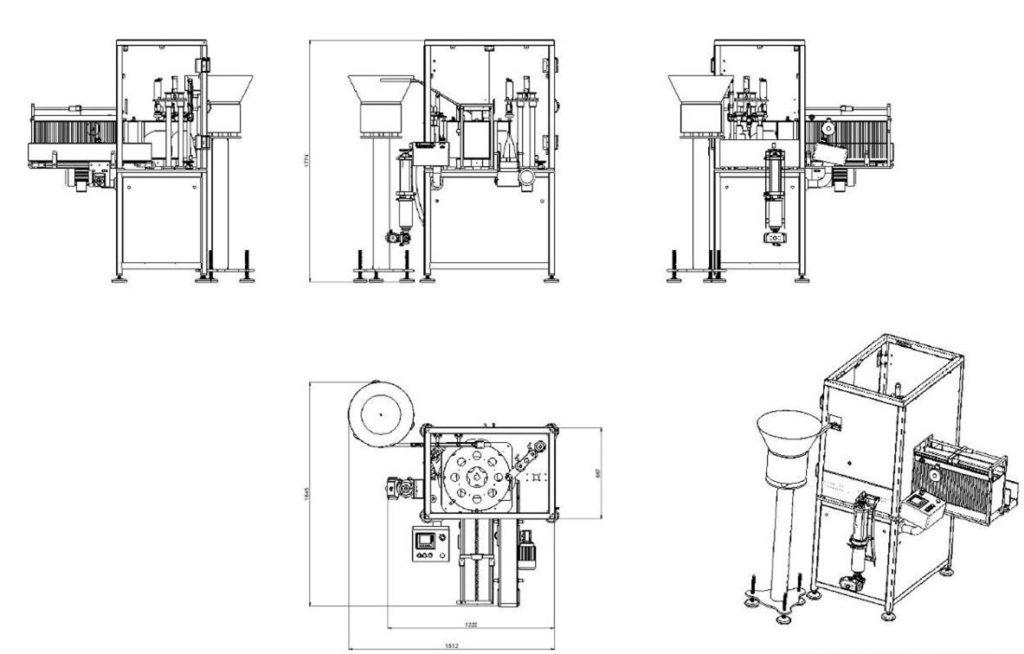 TECHNICAL FEATURES:
The machine main frame is stainless steel AISI 304 made and stands on adjustable height feet.
All supports and shaft on the machine, that could get in contact with the product are stainless steel AISI 304 made.
Loading rail for one format of pouch, AISI 304 made. The pouches infeed is performed by the operator manually and/or with the rail
Starwheel for one format of pouch, AISI 304 made.
Dosing valve support, managed by a pneumatic system with up / down movement.
Volumetric filling unit composed by:
Nr 1 volumetric dosing unit from 50 to 1300 cc in AISI 316 L stainless steel
Nr 1 three ways DN15 rotary valve
Nr 1 pneumatic 0.5" – 2 ways no drop valve with shut off nozzle
Flexible hose
Single head capping unit composed by:
Nr 1 vibrating base cap sorter / feeder AISI 304 made
Nr 1 caps chute in s/steel AISI 304 with photocell
Nr 1 caps releasing head
Nr 1 pneumatic motor
Nr 1 s/steel chuck for one size of plastic screw cap
Electrical regulation of the height of the capping head.
A security clutch system stops the machine in case of problems on the star so as not break any pouch.
Electrical photocell is posed in the entrance; in case of no arrival of pouches the machine doesn't run.
Electrical photocell is posed on the exit; in case of problem on the plant the machine stops.
Electrical photocell stops the machine in case the caps chute is empty, as to avoid any pouch to pass through the machine without cap. Automatically, the machine re-starts as the caps chute is again full of caps.
Control panel in S / S AISI 304 with auxiliary service at 24 volts.
Machine managed by PLC.
Touch screen.
Height of conveyor from floor 900 ± 50 mm.
220V 50Hz single phase, 8 A.
Air consumption, about 250 Nl/min.
PNEUMATIC HEAD, FILLING HEAD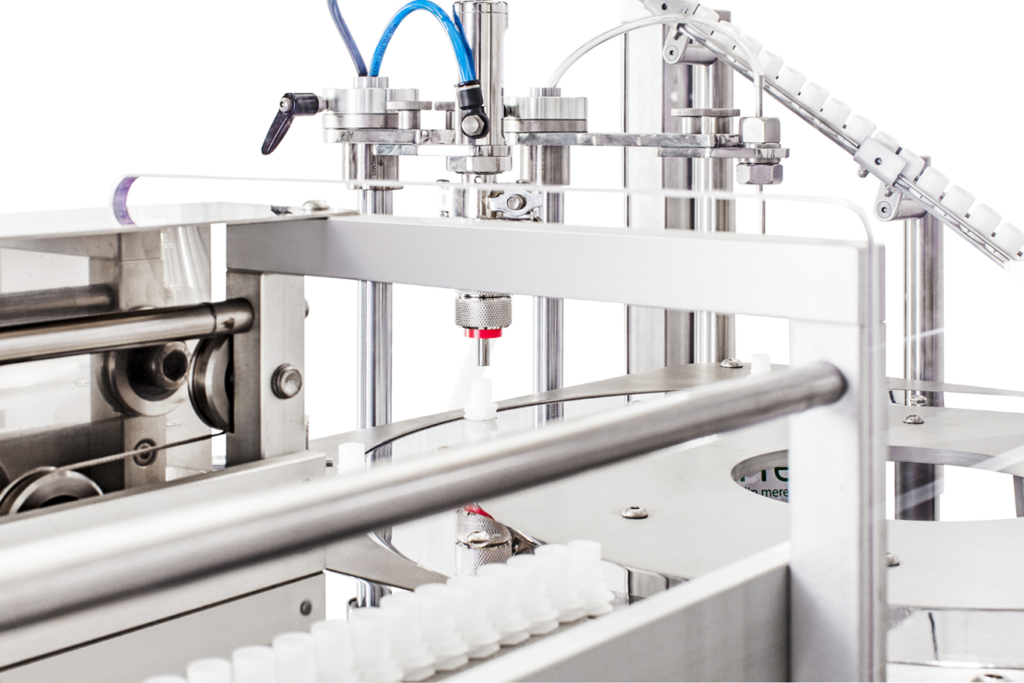 PISTON FILLING PUMP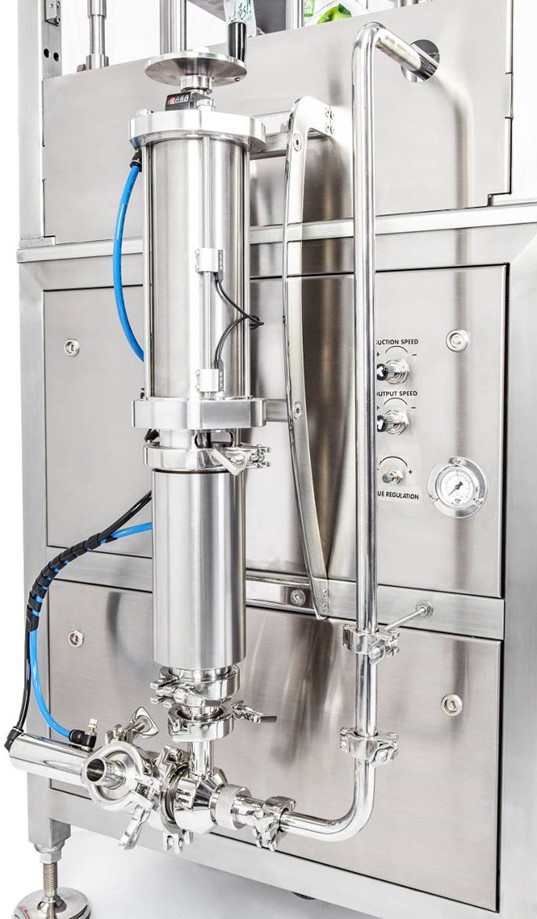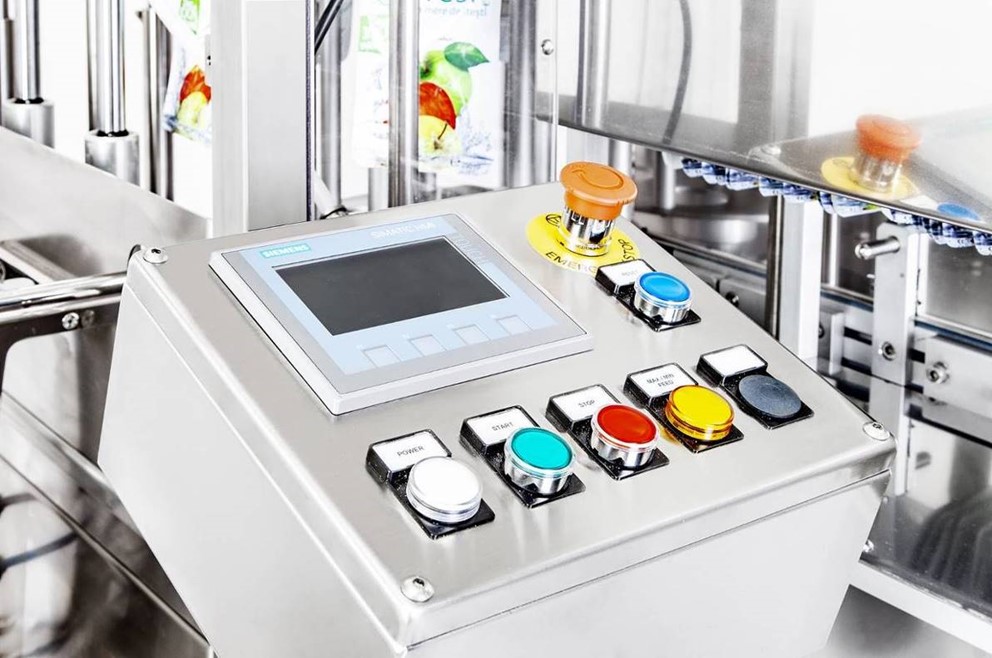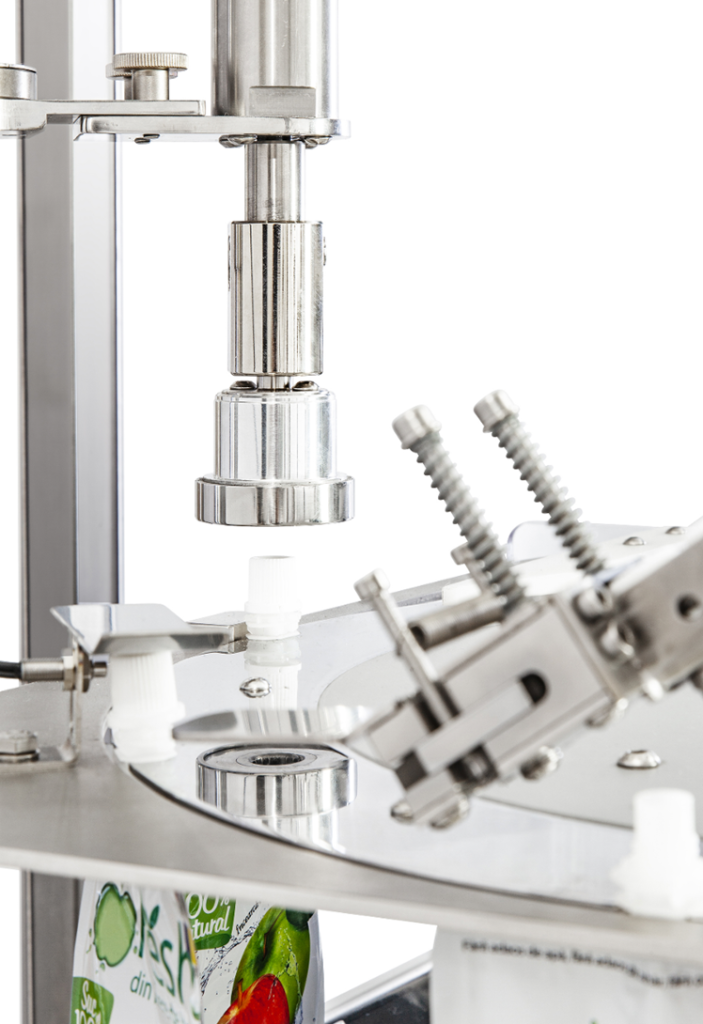 DESCRIPTION
S/STEEL RAIL AND STAR-WHEEL FOR A DIFFERENT POUCH SIZE
S/STEEL CUSTOM MADE CHUCK FOR 1 SIZE OF PLASTIC SCREW CAP
CAPS CHUTE FOR 1 FORMAT OF PLASTIC CAP WITH RELEASING HEAD
Ø 410 MM HOPPER FOR ANOTHER SIZE OF CAP SORTING
SURCHARGE FOR HYSTERESIS MAGNETIC CLUTCH (INSTEAD OF PNEUMATIC MOTOR)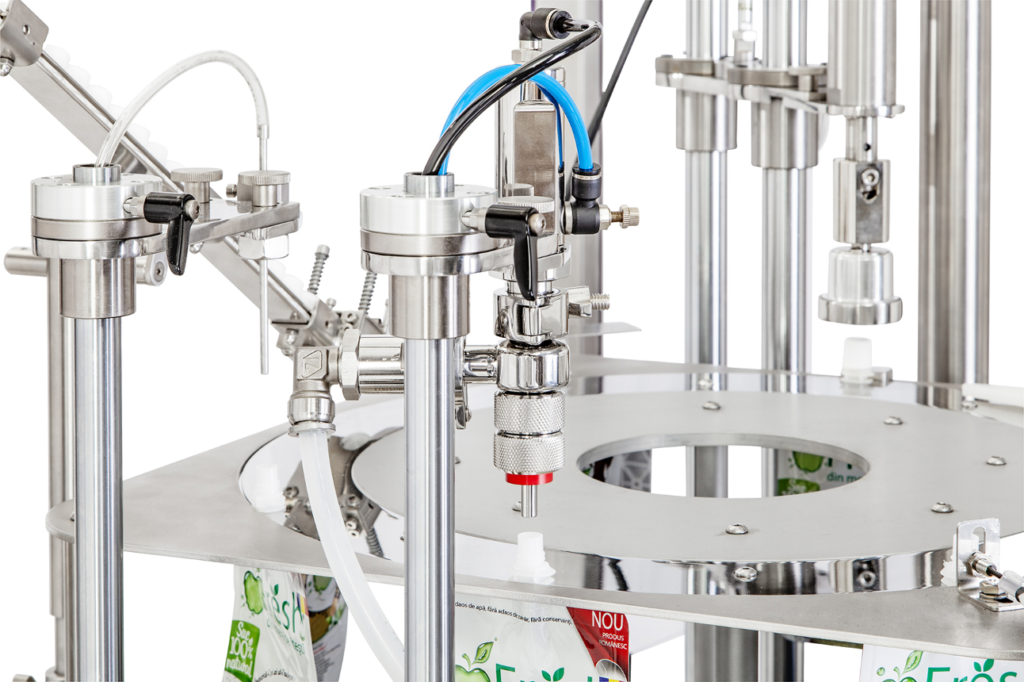 We reserve the right to confirm, revise or integrate this offer after the settlement of all the supply details and the evaluation of the definitive samples