Description
Project Scope:
RO WATER TREATMENT SYSTEM – 60 TON PER HOUR
Equipment Price List  
No
Name
Model
Capacity
Qty.
Remark
Part 1: 60 ton/hour water treatment
1
Raw water tank/water pool
100T
1pc
※Prepared by customer
2
Beverage pump
75T
75T/H
4sets
※CNP pump-30kw

※ABB Inverter controller

Liquid level control
4sets
3
Silica sand filter

(vulcanized rubber prevention of corrosion)

SYS-60
60T/H
2sets
※SUS304

※Ø2200

※Back wash system

※With high quality sand

※Manganese sand filter

※Turbidity monitor

※Pressure transmitter

※pneumatic valve

※Sampling valve

4
Active carbon filter

(vulcanized rubber prevention of corrosion)

SSJ-60
60T/H
2sets
※SUS304

※Ø2200

※With active carbon

※Pressure transmitter

※pneumatic valve

※Sampling valve

※Temperature sensor

5
Sodium ion filter

(vulcanized rubber prevention of corrosion)

SN2-60
60T/H
2sets
※SUS304

※Ø2200

※With 731 resin

6
Buffer tank
BFG
2M2
1set
※SUS304 Supplied by POSCO, S.Korea
7
Dosing pump

SE-40

40T/H

2

sets

※Brand: SEKO

Made in italy

PE Tank
8
Precision filter(5μm)
FSJ-40-5
60T/H
1sets
※SUS316L
9
Reverse Osmosis device

(Single stage)

RO-1-

60T

60T/H
1sets
※With 66pcs

※RO membrane

DOW, USA

※high pressure pump

30kW

※With soft start function

※Material:SUS304

※FRP membrane shell

※pneumatic valve

※Sampling valve

※PH monitor

※Pressure transmitter

※Electromagnetic flow meter

※Conductivity motor

※Temperature sensor

9.1
Membrane cleaning system
60T/H
2sets
※with 1000L PE Tank

With cleaning pump

With precision filter

With 5pcs PP membrane

10
UV sterilizer
DK-34
60T/H
1set
11
Ozone sterilizer
O3-200G
200g/h
1set
※Water + air cooling type

※2.3 kW

   Oil free air compressor
12
Mixing tower
HHT-30
60T/H
1set
※SUS316

※Size:400*5000mm

※Thickness:4mm

13
Water distribution Pure water pump
CNP20T
20T/H
6sets
※CNP brand
14
Electrical control cabinet
1pc
※SIEMENS elements

(Air switch,contactor,thermal protection,relay,indicator,button,cable,trunking,etc.)

15
Connection pipes&fittings
1pc
※SUS316 pipes and valves

※SUS304 Pipe support and pump base

※Material fee

16
VFD
6pc
※2 systems From the RO treatment to the sachet fillers

※1 system From the UF treatment to the water line

Pressure sensor & control system
6pc
17
Spare parts for 2 years
RO Water treatment system @ 60000 liter per hour
Water Treatment Equipment    
1. Water Source Pump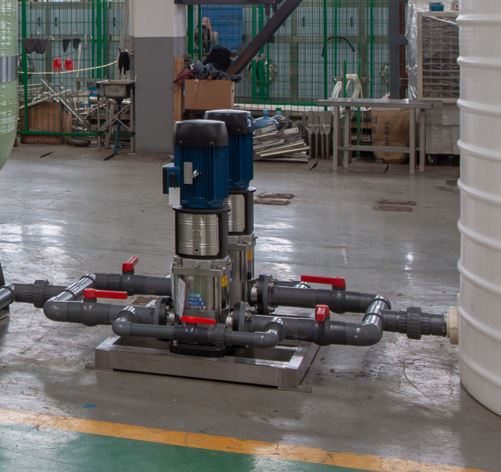 Technical parameters:
Model
CDM-75
Capacity:
75 T/H
Liquid temperature:
Normal temperature type: -15℃~+70℃
Hot water temperature range:
+70℃~+110℃
Highest ambient temperature:
+40℃
Max.operation pressure:
10 bar
Max.inlet pressure is limited by max.operation pressure
Motor Power:
30 kW
Rotating speed:
2900 rounds/min
2. Preliminary filtering system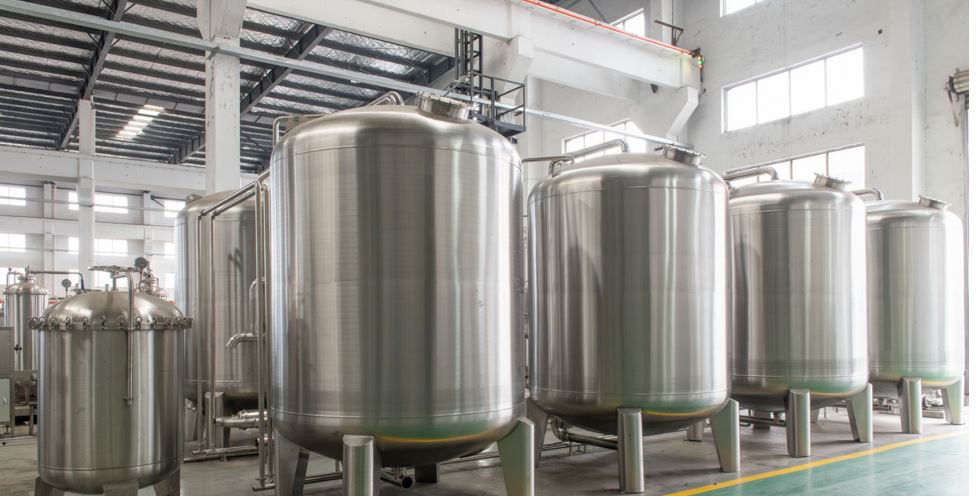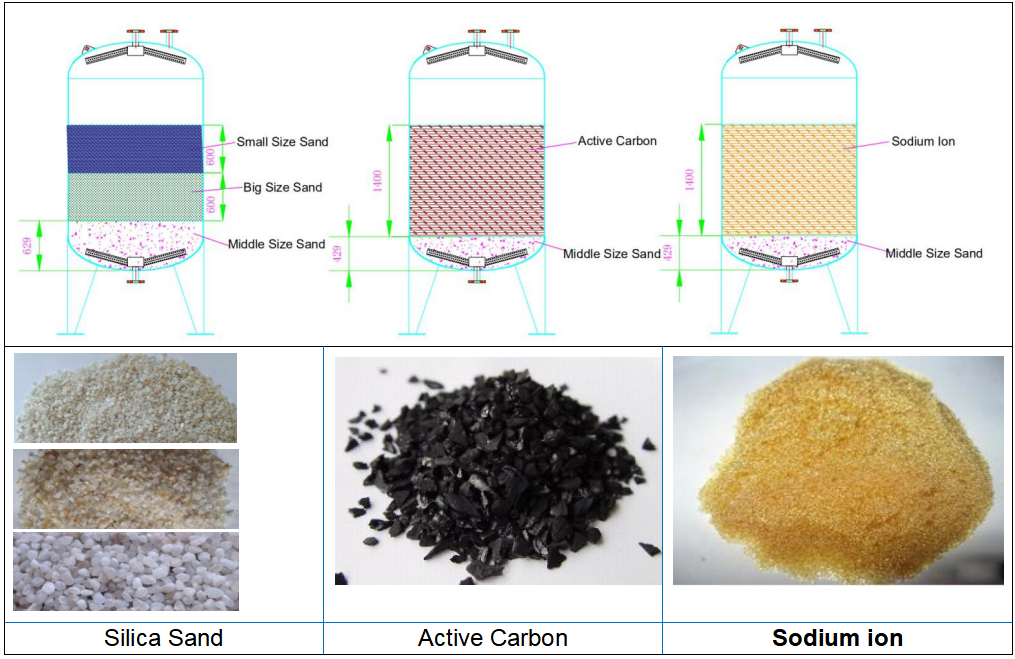 Features of the system:
The connection of each device is made of high-quality stainless-steel pipes, and equipped with manual or pneumatic stainless steel butterfly valves.
The pressure gauge is shockproof.
All internal pipes are connected with the body by flanges, which is convenient for maintenance and component replacement. The material of internal parts meets the specified requirements, and fasteners are equivalent to the material of internal pipes.
The internal parts are fixed and strengthened to withstand the impact of water flow.
The manhole of the container can ensure the access and replacement of parts by the maintenance personnel. The inner surface of the manhole and manhole cover is flush with the inner surface of the container. The hole is equipped with a complete set of parts such as the hole cover, washer, bolt, nut and lifting rod.
Uniform distribution of water and gas in the internal water inlet, air inlet and water collection device of the equipment.
All internal devices, pipe fittings and components of the container shall be installed and fixed in the container before shipment to prevent missing parts and damage or loss during transportation.
Except for special needs, all equipment is not made of plastic material, and the material is equivalent to the anti-corrosion grade of the equipment.
The bottom outlet device adopts stainless steel winding pipe.
The device is provided with a support foot.
In reverse washing, compressed air is simultaneously fed into the water to scrub the filter material. The strength of the compressed air is 18-25 l/s · 2 m.
2.1. Quartz-sand filter
Description:
This system is equipped with quartz sand filter, and the filter is filled with refined quartz sand, which is used to intercept suspended matter, colloid and other impurities in the water. Backwashing time of the equipment is determined by inlet turbidity, which depends on raw water turbidity.
In reverse washing, compressed air is simultaneously fed into the water to scrub the filter material. The strength of the compressed air is 18-25 l/s · 2 m.
Technical parameter:
| | |
| --- | --- |
| Model | SYS-600 |
| Capacity: | 60 T/H |
| Working pressure: | 0.25 Mpa |
| Material: | SUS304 |
| Filtering medium: | High quality sand |
| Size: | Ø2200*4000mm |
2.2 Active carbon filter
Description:
Activated carbon adsorber is used to adsorb residual chlorine, odor and organic substances and other harmful substances in raw water, reduce the COD content, and prevent residual chlorine into RO device, to ensure the safe use of membrane elements in RO device. If the water contains only a certain amount of residual chlorine, and organic matter, odor or color content is very small, the activated carbon in the adsorber only regular replacement wear or reaction with the residual chlorine of carbon particles. If the organic matter in water, peculiar smell or chroma content are higher, need to replace activated carbon after using period of time commonly, specific change time should be decided by the organic matter in water, peculiar smell or chroma concentration.
Technical parameters:
| | |
| --- | --- |
| Model | SSJ-60 |
| Capacity: | 60 T/H |
| Material: | SUS304 |
| Working pressure: | 0.25 Mpa |
| Chaotic degree: | Maximum 5 mg/l |
| Size: | Ø2200*4000mm |
| Filtering medium: | Active carbon |
2.3 Sodium ion exchanger
Description:
Because the source water contains calcium and magnesium ions, and the desalination rate of reverse osmosis is as high as 97%, the concentrated water side will produce calcium carbonate, magnesium carbonate, magnesium sulfate and other precipitates due to high concentration. The precipitation adheres to the reverse osmosis membrane surface, which will block the channel of the membrane element, causing the increase of pressure difference, the decrease of water flux and desalination rate, and affecting the normal operation and service life of reverse osmosis.
Technical parameters:
| | |
| --- | --- |
| Model: | SN2-60 |
| Capacity: | 60 T/H |
| Size: | Ø2200*4000mm |
| Working pressure: | 0.25 Mpa |
| Material: | SUS 304 |
| Filtering medium: | 731 colophony |
3. Precision filter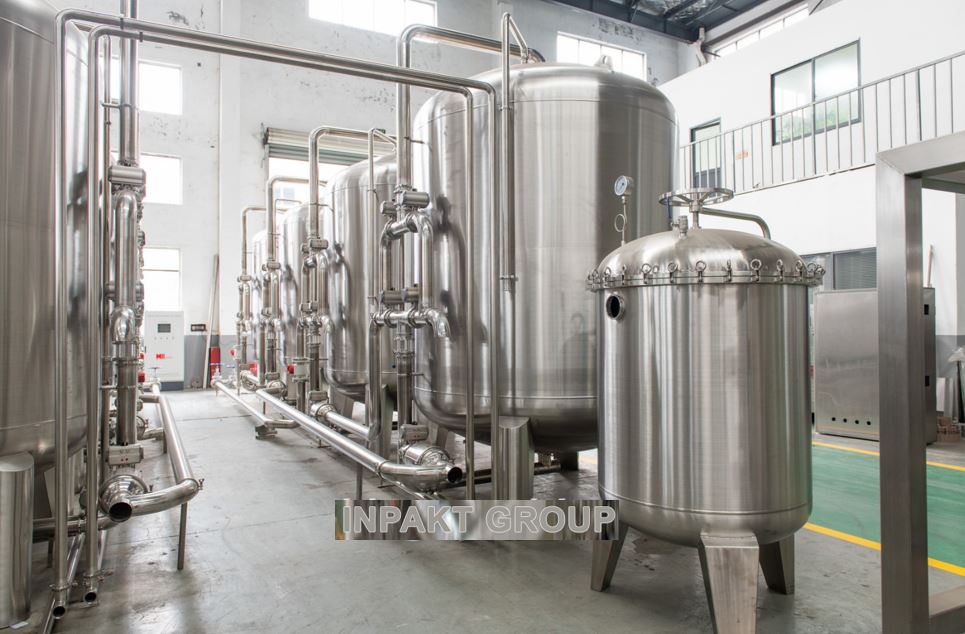 Description: 
The precision filter is installed in front of the reverse osmosis. The purpose is to prevent the abnormal operation of the front mechanical filter or activated carbon filter (such as the filter layer has not been formed after backwashing or other human factors), so as to prevent the water particles from entering the RO membrane module and damaging the RO membrane surface, the precision filter is needed to put in front of the RO.
The precision filter adopts polypropylene honeycomb filter element to improve the filtration precision. When the filter element differential pressure reaches 1.0 Kg/cm2, then it needs to be replaced.
Features:
the structure of precision (security) filter meets the requirement of quick replacement of filter element.
a discharge valve is installed on the water pipe that enters the precision (security) filter.
the operating velocity of the precision (security) filter shall not be greater than 10m3/m2.h(in terms of the surface area of the filter element).
precision of filter element filter of precision (security) filter is 5u and 1u.
precision (security) filter device body is stainless steel.
the top of precision (security) filter is equipped with exhaust valve.
 Technical parameters:
| | |
| --- | --- |
| Model: | FSJ-40-5 |
| Capacity: | 60 T/H |
| Working pressure: | ≤0.3 Mpa |
| Quantity of filter pole: | 30 pieces |
| Material: | SUS 304 |
| Filtering medium: | Polypropylene membrane (PP MEMBRANE) |
| Size: | Ø520*850 mm |
4. Reverse Osmosis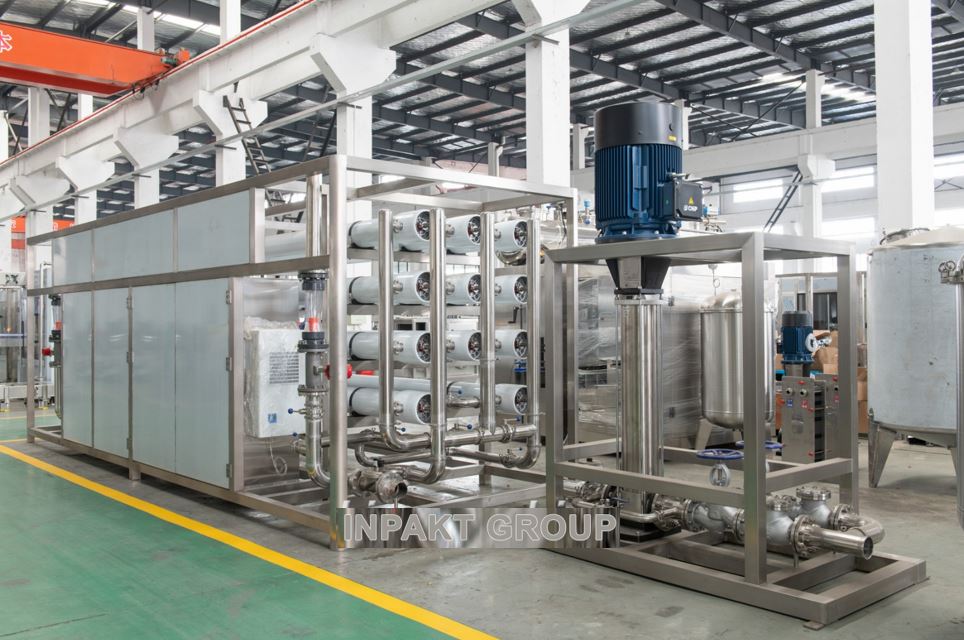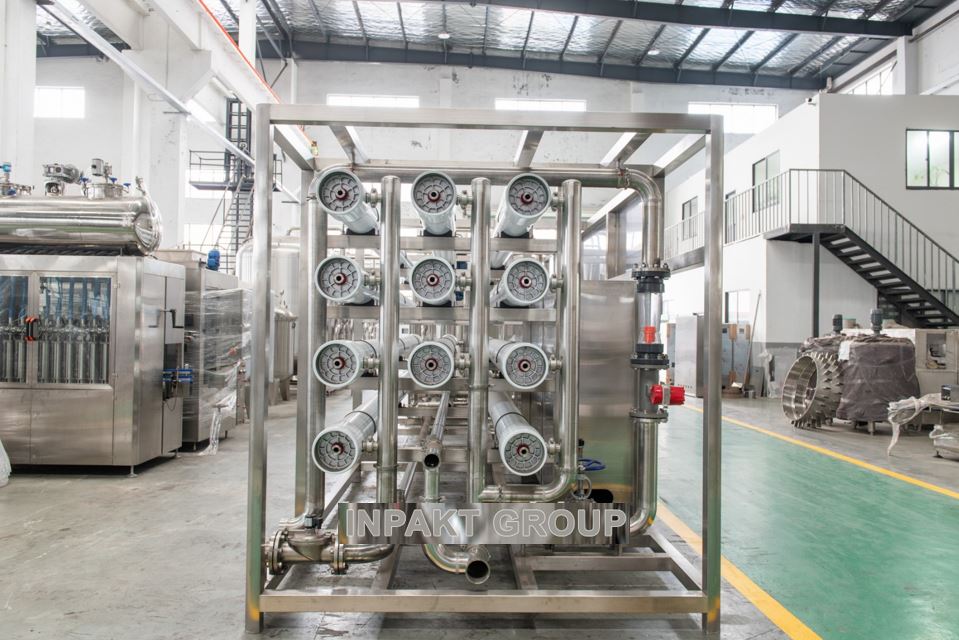 Features:
Stainless steel main structure.
It has five membrane-shells, each membrane-shell contains three RO membranes.
RO membranes are supplied by Hydranautics.
Able to eliminate over 97% solute salt and over 99% colloids, microorganisms, microparticles and organics, etc.
The control system of the device adopts the combination of "site manual operation + automaticoperation by PLC" mode to complete various data collection andparameter setting in the operation room. If the PLC controller fails, it will not affect the normal operation of the treatment system. On-site manual operation mainly includes: operation of pretreatment filter, chemical cleaning of reverse osmosis unit, and etc.
Medium / activated carbon filter, installation of inlet and outlet water manual valve, backwash manual valve, positive wash backwashing drain valve, vent valve, pressure gauge, etc.
Manual valves are installed at the inlet and outlet of the security filter/precision filter. The replacement of the filler is determined according to the increase of the pressure difference of the filter. The service life of the filter element is generally greater than 3 months.
The high-pressure pump of the single-stage reverse osmosis unit is equipped with high and low pressure protection devices. When the inlet water pressure is lower than the set value or the outlet water pressure is higher than the set value, the high pressure pump automatically stops working, and the high pressure pump is also synchronized with the high and low liquid level control system of the front and rear water tanks.
RO system:
The single-stage reverse osmosis unit is equipped with a concentrate and fresh water flow-meter.
The working efficiency of the single-stage RO unit is controlled by adjusting the concentrate and fresh water valves.
The automatic quick-rinsing process of opening and stopping is set, and low-pressure rinsing is performed to remove the sediments on the side of concentrate water.
Equipped with online electric conductometer (Equipped on the RO water inlet pipe, RO water outlet pipe) to monitor water quality.
The RO membrane cleaning is manual cleaning. The RO cleaning agent will be determined after comprehensive analysis based on various types of information feedback.
All water tanks are equipped with liquid level transmitters, and the signals are introduced into the PLC control cabinet to control the liquid level and alarm.
On-site manual operation and automatic operation are independent from each other, do not interfere with each other. If automatic failure, can manually operate the water treatment system, and the liquid level control is running normally.
The main fault signal is introduced into the PLC controller, and the alarms are displayed on the touch screen, awaiting to be set right.
Technical parameters:
Model:
RO-1-60T
Feed water:
120 ton/hour
Product water:
60 ton/hour
Reject water:
60 ton/hour
Capacity:
60 ton/hour
Material:
SUS304
Filtering capability:
0.0001 micron
Vertical pump:
Model:
CDLF120-71-1
Power:
75 kW
Capacity:
120 m³/h
Head:
140 m
Rotating speed:
2940 rpm
Membrane amount:
15 pcs
Membrane capacity:
1 ton/hour
Length:
2200 mm
Width:
1350 mm
Height:
2350 mm
4.1. CPA-8040 membrane

 Description:
CPA3 is the third generation CPA high rejection brackish water RO membrane introduced in the late 1990's. This membrane at 99.7% rejection is an upgrade to the CPA2 with 10% more membrane area (400 square feet). This resulted in reduced capital costs by requiring fewer pressure vessels and less floor space.
CPA3 membranes also have a thicker (31 mil) feed spacer that exhibits higher tolerance to feed water suspended solids.
Technical parameters:
Model:
CPA-8040
Dimension:
Diameter: 8 inch
Length: 40 inch
Permeate flow:
11,000 gpd (41.6 m³/d)
Salt rejection:
99.7%(99.6% minimum)
Configuration:
Spiral Wound
Membrane material:
Composite polyamide
Membrane active area**:
400 ft2 (37.2m²)
Feed spacer:
31 mil (0.787 mm)
Test condition:
1500 ppm NaCl solution
225 psi (1.55 MPa) applied pressure
77°F (25°C) operating temperature
15% permeate recovery
6.5 – 7.0 pH range
Use and restrictions:
Maximum applied pressure:
600 psig (4.14 MPa)
Maximum chlorine concentration:
< 0.1 ppm
Maximum operating temperature:
113°F (45°C)
pH range, continuous (cleaning):
2-10.8 (1-12.5)
Maximum feedwater turbidity:
1.0 NTU
Maximum feedwater SDI (15 mins):
5.0
Maximum feed flow:
75 gpm (17.0 m³/h)
Maximum pressure drop for each element:
15 psi (0.10 MPa)
Manufacturer:
Hydranautics, USA
Electric Components
Items
Supplier, Origin
PLC
Siemens, Germany
Touch screen
Contactor
Schneider, France
Relay
Breaker
Switches
RO membranes
Hydranautics, USA
Water Pump
Nanfang, China
Stainless steel structure
INPAKT
4.2. Membrane cleaning system
 Description:
After the water enters the reverse osmosis system, it is divided into two paths, one through the surface of the reverse osmosis membrane to get filtered, and the other moves along the surface of the reverse osmosis membrane and gradually get concentrated. In the concentrate water, containing a large amount of salt, organic matter, colloids, microorganisms and bacteria, viruses, etc. If the reverse osmosis system stops, these contaminants would immediately settle on the membrane's surface, causing contamination of the membranes. Therefore, an automatic flushing system should be installed to clean the surface of the membrane while the machine stops.
Water pump:
| | |
| --- | --- |
| Model: | CHL 20-20 |
| Material: | SUS 304 |
| Water flow: | 20m³ |
| Power: | 3 kW |
| Manufacturer: | Nanfang, China |
1m³ rinsing box:
Filter:
| | |
| --- | --- |
| Filter medium: | PP membrane |
| Filtering capacity: | 10 um |
5. UV sterilizer machine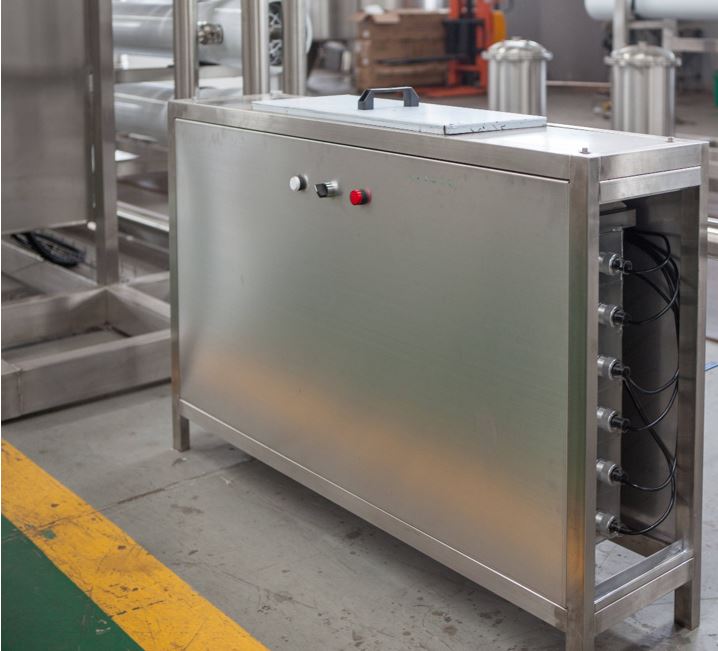 Description:
The products adopt a high-intensity, long-lived UV germicidal lamp, the device is reasonable, compact, and adopts the structure of secondary disinfection, so health indicators completely according to the state standard.
Technical parameters:
| | |
| --- | --- |
| Model: | DK-34 |
| Total power: | 2 kW |
| Flow of sterilizing water: | 60000L |
| Working pressure: | ≤4 Kg/cm2 |
| Inlet and outlet pipe diameter: | DG25 mm |
| Steady time: | 3-6m |
| Size: | 800*300*600mm |
6. Ozone generator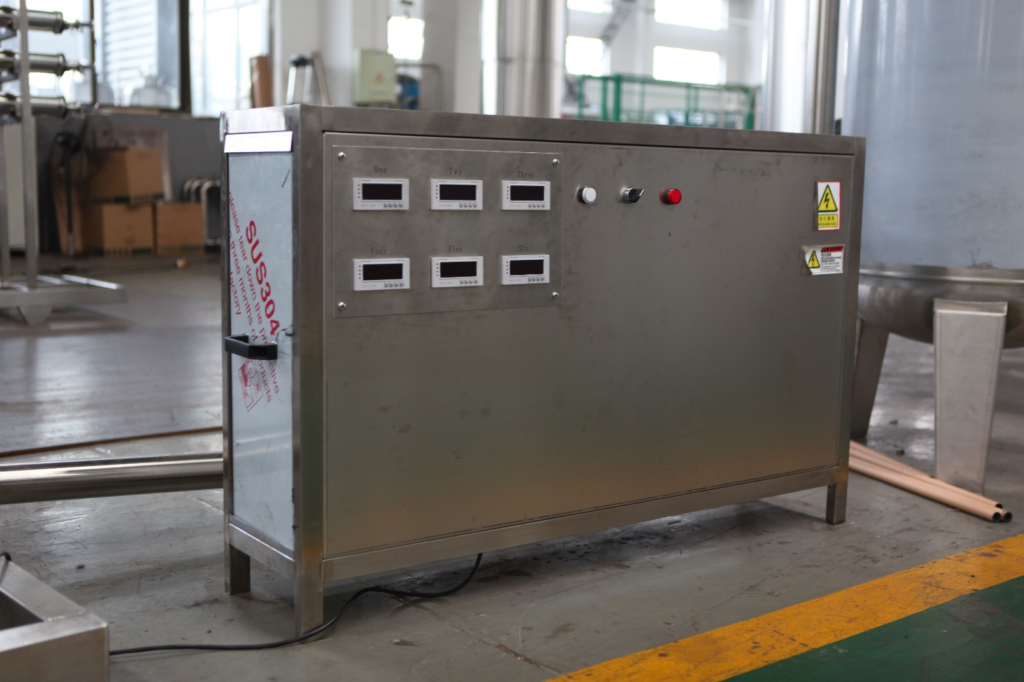 Technical parameters:
| | |
| --- | --- |
| Model: | O3-200A |
| Capacity: | 200g |
| Power: | 2300 W |
| Oxygen flow chart: | 4 L/min |
| Output size: | 10 mm |
| Air pressure: | 0.1 Mpa |
| Generating tube: | 1 pc 20g |
| Cooling method: | Air cooling |
| Dimension: | 550*400*1130 mm |
| Weight: | 50.8 Kg |
7. Product mixing tower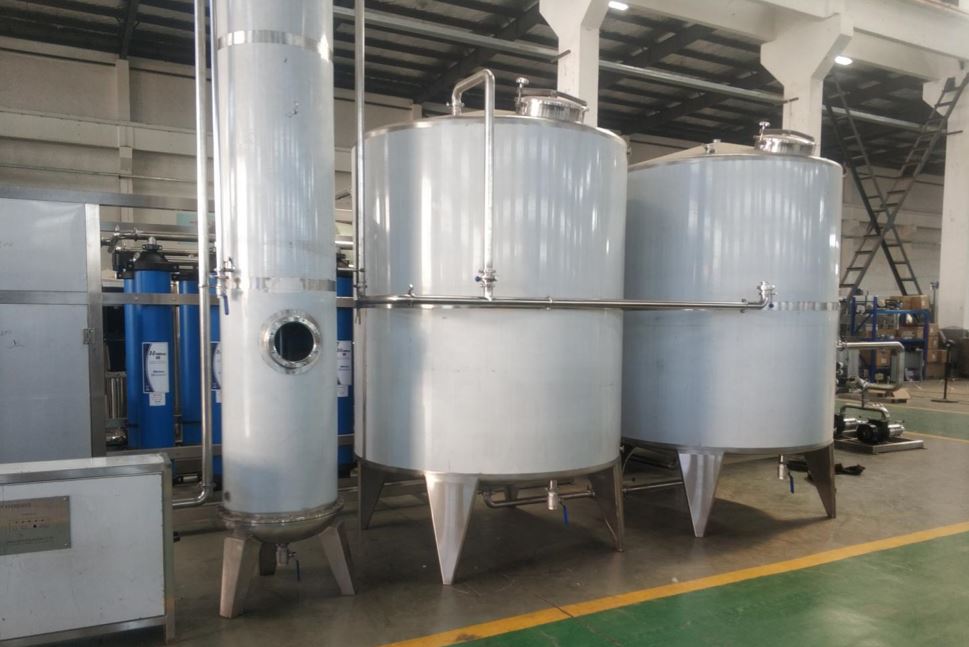 Technical parameters:
| | |
| --- | --- |
| Model: | CG-10 |
| Capacity: | 10 Ton |
| Material: | SUS 304 |
| Thickness: | 2.8 mm |
| Dimension: | Ø2200*2600 mm |
| Total height: | 2600 mm |